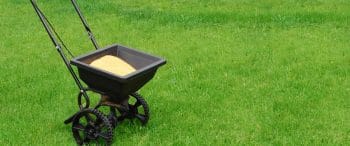 Every homeowner desires to live in a fresh and relaxing surrounding. Well, one of the best ways to attain this aim is to put a green grass or lawn in your backyard or front yard. Meanwhile, to maintain the beauty of your lawn, you must have the proper lawn maintenance.
With this, you will need a quality fertilizer for green grass.
There are many fertilizers for green grass in the market. To help you choose the best, we created a list of the best fertilizers for green grass, that we've used and recommend.
Click here to visit Ryno Lawn Care's service page for fertilizing and weed control.
---
Ryno Lawn Care can take care of all your lawn fertilization needs in North Texas areas.  Contact us or check pricing here.
---
Extreme Grass Growth Lawn Booster
This fertilizer is one of the best fertilizers against pests. Using for new grass is perfect. Thus, it has a sufficient amount of phosphorus that supports the grass to take roots. The said fertilizer has enough potassium and nitrogen that has an advantage for controlling pests.
Another fantastic feature of the Extreme Grass Growth Lawn Booster is that it is child and pet-friendly. It can be your best option if you want a safe fertilizer that can't harm your environment. With this fertilizer, you can see visible and rewarding results.
Milorganite 0636 Organic Nitrogen Fertilizer
This brand is excellent for all-year-round use. It is an organic fertilizer for green grass. It doesn't contain potassium which makes it perfect for areas with moderate temperatures and has no drought. It features 4% iron that has a good effect on the lawn's brightness, pomp and color saturation.
Milorganite Fertilizer is also suitable for shrubs, vegetables, and flowers. It is best to use for lawns on fall and spring. It is safe and organic, so you have nothing to doubt about its benefits. It can be used throughout the year.
Greenview Lawn Food

Greenview Lawn Food comes with sufficient nitrogen which is beneficial for the nourishment of your lawn. It doesn't include phosphorus on its composition, so it is not ideal to use in new lawns. However, it is perfect to use for the growth of the roots. It provides the green grass to have strong resistance against cold temperatures.
To sum it up, you can enhance the value of your green grass with the use of the best fertilizers mentioned above. Meanwhile, you must also know the kind of fertilizer you are going to use for your lawn. There are three basic kinds of fertilizers including granular, organic and water-soluble fertilizers. Your fertilizer must match to the needs of your lawn.