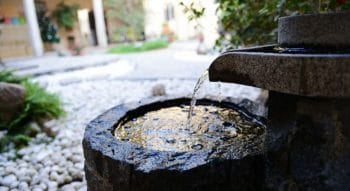 Having a water feature installed in any garden space will bring a sense of calm and cool to your environment. Outdoor water features lend a real air of tranquility.
Nowadays, there are seemingly limitless options when it comes to water features, with the majority of them pre-made and easily installed.
Whether you prefer a wall fountain or a cascade feature, the sky's the limit.
Traditional Options
For those who are more classic in design style, there is no need to break the bank to get what you want. Select a model that has a rustic or aged finished, such as the look of bronze, lead or terracotta.
A full array of traditional choices are available through Capital Garden Products. These water features are eminently affordable and come in lightweight materials everyone loves.
Some of the traditional motifs on offer include lion's heads, dolphins and classical gargoyles. The only thing required for installation is an electrical source and a pump. Which means there is no need for plumbing work at all.
A traditional fountain-style feature such as Outdoor Fountain Pros models brings a feel of Italianate grandeur to a classical courtyard. Made of a pair of bowl pedestals rendered in a shell motif, this feature sends water dripping from the fountain's head so that it drips gracefully from the first bowl to the second.
Contact us for help with landscaping design and installation services.
Modern Flair
It is also possible to obtain water features that are a bit more modern in appearance, including tiered options, rock cascades and walls of water. These types of features are available in a range of scales and media, including stainless steel or copper. Certain models have built-in lights and reservoirs, enhancing their utility.
Water blades are always available in a range of sizes and lengths. Affix to a wall to produce a sheet of beautiful water able to fall in a continuous manner to the reservoir.
Those with smaller garden spaces often choose bubbling orbs than send water down to stone beds. Orbs of stainless steel provide modern style. They are also available in sandstone or granite for those seeking a classic look.
Optimal Placement For Water Features
When deciding where to place a water feature, steer clear of dark areas. These spots will likely start to feel somewhat damp and dank. Rather, place your water feature in a sunny spot where it will glisten and shine.
The majority of water features require a water pump. Therefore it is also necessary to have a power source close to connect the pump.
It is essential that these components are compliant with all governmental regulations in order to prevent shocks from happening. A skilled electrician is the best person to install this type of equipment.
If there is no electrical supply close at hand, it is possible to purchase water features that use battery or even solar power. Of course, a solar-powered option will need to be placed where the sun can reach it, otherwise the feature will not be functional.
Basic Operating Tips
Because the water within a water feature must be kept clear, it is wise to purchase an algae stopping tool. Fountains and pools of accumulated water should be covered when children are present to prevent accidental drowning.
Climbing plants can be a great way to camouflage ugly cabling and pipes, and features that also serve as planters can be an ideal spot for an herb garden.