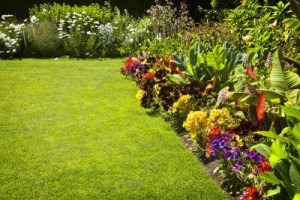 It takes quite a bit of time and effort to keep your yard looking its best, which is why you should leave it to the professionals at Ryno Lawn Care, LLC. We provide year-round full service lawn care and have been making our customers happy with excellent lawn services in Euless, TX for years. When you trust us with your lawn care needs, you can rest assured your yard will always look beautifully landscaped. We guarantee you will be completely satisfied with our work, and you can feel confident that we will do a great job every time we service your yard.
One of the most popular lawn services in Euless is aeration of the lawn at the beginning of the growing season. This process loosens up the packed dirt to allow the soil to breathe much better. This lawn care service also allows for better absorption of water, which means the lawn does not need to be watered as frequently. Aerating is an important step in creating a healthy and beautiful lawn, but it can be difficult and very time consuming (or even impossible) to do it yourself without having the right tools. We use the right tools for the job and latest equipment taking the work and stress out of the job for you. Our full service lawn care ensures that your yard looks its best start to finish.
The best way to liven up your yard is with beautifully landscaped flowerbeds. Our lawn care full service will take care of mulching your flowerbeds so that your garden looks its best, while protecting your flowers at the same time. A messy flowerbed can really cause your yard to look unkempt, so we make sure that we do a neat job. That's why our customers are always happy with our Southlake lawn care. We also take care of the weeding in your flowerbed and yard, which can be extremely tedious and time-consuming to do yourself. Proper weeding will ensure that your lawn and flowers grow in thick and beautiful.
Spring clean-up is important to get your yard ready for the summer. This is included with our full service lawn care as well as trimming your trees and bushes. You want your yard to look its best, and when you trust us to do your lawn care, you will always be happy with the results. We take care of all your yard's needs from start to finish so all that you have to do is sit back and enjoy the view. You work hard enough, and we will work hard for you to give you the very best in lawn care in Euless, TX.
If you are looking for a professional and affordable company to provide your lawn care full services in Euless, then give us a call at 214-728-8894 or submit our convenient Online Service Request Form. We will be happy to provide you with a free estimate based on your lot size and the types of jobs you need done. When you hire Ryno Lawn Care, LLC you are doing business with a company that has only your best interests in mind, and we will strive to provide you with the best value in full service lawn care.