How do You Landscape an Area Where Grass Won't Grow? Grass is a natural landscape that makes homes' exteriors attractive. However, there are some areas where grass won't grow, and designers are expected to develop strategies to make those places beautiful.
Some landscaping techniques used in areas where grass won't grow include:
Groundcovers

Patio

Fire pits

Water features

Raised beds. 

Paths
Artificial grass
Rock landscaping
Moreover, each technique is designed and developed differently based on the purpose and area used to landscape.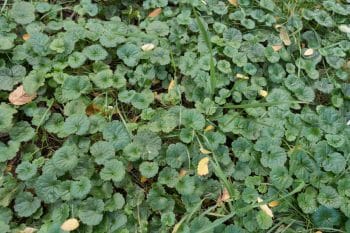 Groundcovers
In landscaping, groundcovers refer to a group of low-lying plants with a spreading, creeping habit that covers ground sections and requires minimal maintenance. Some of the plants used for ground cover include creeping shrubs, low-growing ornamental perennial plants, and self-seeding annuals.
Lastly, ground covers aim to create aesthetic considerations by introducing new textures and colors into the landscape and covering the ground where grass won't grow. Equally important, groundcovers are expensive to initiate but require minimal maintenance.
Patio
Patio is any outdoor living space near the residence used for entertaining, dining, and relaxation. Patios can have cover, roofs, or paved areas between the garden and the house.
Patios can be stone, gravel, brick, pavers, or concrete. Although, please note that when you install a patio, you need to consider; layout, material trends, type of pavers, and concrete and wood to use.

Fire Pit
A fire pit refers to containers in which fires burn outdoors. Also, they prevent fire from spreading to the surrounding areas. You can surround your fire pit with some plants, but distance it from any buildings.
Finally, a well-designed fire pit adds a perfect combination of fun, beauty, and serenity to the landscape. It is essential to consider the type of materials used to set up the fire pits.
Water feature
Water feature are a range of items from pools, rills, streams, artificial waterfalls, and fountains. What's more, you can design these water features in areas where grass won't grow to add beauty to the landscape.
There are many benefits associated with water features, such as reduced noise pollution, flexibility to fit smaller outdoor space, inviting more wildlife to the property, and bringing the sound of nature to the doorstep.
Raised beds-grass alternative
A raised bed is a mounded or contained bed of soil above the surrounding grade. Secondly, use raised beds to grow herbs, vegetables, and flowers in places where grass won't grow. 
Furthermore, raised beds are great because the soil doesn't get as cold as it does in the ground. As a result, you can start planting sooner.
This publication published by Texas A&M University details the steps involved in building raised garden beds.
Make a path
In places where grass won't grow, making a path can serve as a landscape. However, paths are landscape opportunities often squandered.
Likewise, you can use paths seasonally or permanently. Based on the duration of the path, it is essential to consider the type of material used to design the landscape.
Check out Ryno Lawn Care's landscaping service page to get some ideas.
Synthetic turf for areas where grass won't grow
Synthetic turf is laboratory-made grass used for landscaping an area where grass won't grow. It allows homeowners to transform wood surfaces and ugly concrete into a verdant outdoor space.
In addition to that, artificial grass doesn't turn brown, and it requires minimal ongoing maintenance and no water to continue looking good.
Rock landscaping
Rock landscaping is a time-tested and popular hardscape material used to bring out the beauty of plants and construct valuable landscapes. It is useful in areas where grass won't grow to increase the aesthetic nature and attractiveness of the place. Besides that, rock landscaping conserves water, so that's an added bonus.
Wrapping up how to landscape where grass won't grow
In conclusion, there are different ways of landscaping areas where grass won't grow. Having discussed various options, hopefully, now you can make the choice that best suits you and your needs. Proper landscaping creates a lively and attractive outdoor space.
View PDF: How do You Landscape an Area Where Grass Won't Grow?