Lighting can really make or break a space, and when it comes to landscaping, good lighting is key. Not only does it make your yard or garden look beautiful at night, but it also provides necessary security and safety features. It is crucial to know how much the project will cost before hiring a contractor to install landscape lighting. By doing this, you'll be able to choose the kind of fixture you want and set a budget in advance.
Want to get some landscape plants and shrubs installed at the same time as your landscape lighting? Ryno Lawn Care has you covered. We can get it all done. Call us today!
Read on to see how much professional landscape lighting costs and the factors that could affect overall pricing.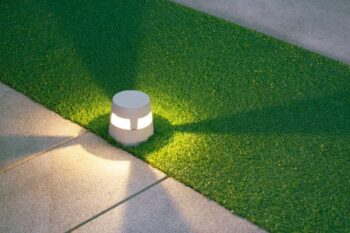 How much do landscape lighting materials cost? 
The average cost for installing ten fixtures worth of landscape lighting is about $3,500. Despite being the average cost, it may change based on the size of the area and the number of fittings you order. For instance, if your outside area is standard and is 800 yards, you might spend $3,500 to $5,000 on the project. However, if your backyard is big, it may need anywhere between 30 and 50 fixtures. The cost of installing each one of them could range from $300 to $400.
Cost of labor
The cost of labor will be another expense for your landscape lighting installation. Installing a typical lighting system will typically cost you around $600. You might spend between $70 and $200 per hour if you agree to pay for installation according to the time spent.
Transformer size
You should consult an electrician when planning for the project to find out if the transformer you are currently using can withstand the estimated extra voltage. If you need to increase the voltage capacity, replacing the current transformer will cost you between $400 and $1,500, depending on the size of your home. The other option is to upgrade the present device's power supply, which costs around $300.
Size of project
The cost of landscape lighting depends on the size of the project. It is obvious that if you're lighting up the whole yard, the price is going to be higher than if you're just putting a few lights around the porch.
Adding outdoor outlets
It is important to keep in mind that you'll need to have outdoor outlets installed in order to power the lights. So if you don't have them already, that's something you'll need to factor into your budget.
LED vs halogen vs solar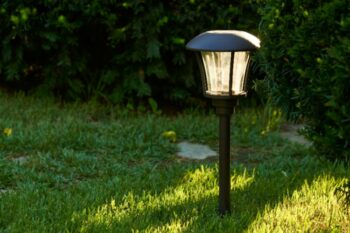 LED bulbs are the most popular type of landscape light because they're energy-efficient and long-lasting. They also come in a variety of colors, so you can create any kind of effect you want.
Halogen lights are relatively cheaper but a little bit less energy-efficient than LED lights. In the long term, you will end up spending more money replacing them each year. But if you want a bright light, they're still a decent option. You can choose the ideal one for your needs because they are available in a variety of colors and styles.
Solar doesn't produce light as bright as LED and halogen do, but you will save money on electricity. The batteries in solar lights will usually last around 3-4 years, whereas LED light batteries typically last 10 years or more. Another advantage to solar lights is that they are very low maintenance to install because they do not require wires and cables etc.
Check out this article titled, "Solar Lighting for Your Landscape," for more information on solar lights and a few of our favorite solar lights available on Amazon.
Timer or smart system operated
Both of these options are great for adding security to your home. With a timer, your lights will turn on and off at specific times, which can make it look like you're home even when you're not.
A smart system, on the other hand, can be operated remotely. This means that you can control your lights from anywhere in the world, which is a great feature if you're going to be out of town for a while.
Both timers and smart systems are affordable and easy to install.
Custom drilling/trouble digging
Installing landscape lighting can be a tricky process, especially if you need to do some custom drilling or have trouble digging. Sometimes, the existing landscape can get in the way, and that is an area where prices can go up.
Always call 811 before you dig. This starts communication between you and the utility companies about lines underground. The utility companies will come out and mark the areas where you cannot dig due to buried utilities.
Length cables need to be run
When it comes to landscape lighting, one of the biggest factors in the overall cost is the length of the cables that need to be run. The longer the cables, the more expensive it will be.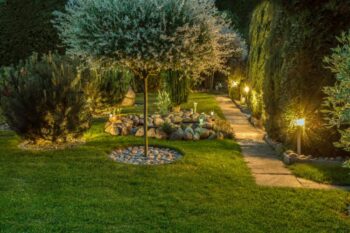 Wrapping Up How Much Does Landscape Lighting Cost
You can go with something simple, like solar lights, or you can opt for something more elaborate, like LED lights. How much you end up spending on landscape lighting will depend on the type of lighting you choose, the size of your yard, and the installation fees.
If you're looking for a way to improve the appearance of your home and yard, landscape lighting is a great option. Contact Ryno Lawn Care today so we can get started on your landscape lighting estimate.
View PDF: How Much Does Landscape Lighting Cost?