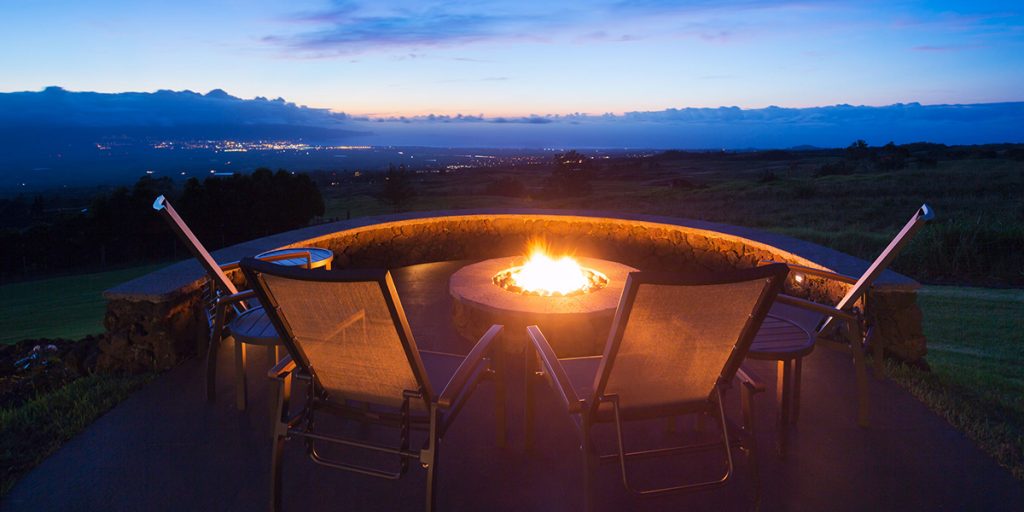 Imagine roasting marshmallows one night at the fire pit in your backyard while you crack jokes and laugh the night away with friends and family.
Sounds cool, right?
Well, dream no more. Building your own firepit is very achievable and way better than getting some flimsy store-bought fire rings that are unnecessarily expensive and won't last you five years if you're lucky.
All you need is to know what design and size will work for you, the right materials to use, as well as the tools and equipment you'll need. After that, you just need to set aside a couple of days for your fire pit installation project.
Your total cost will be based on your design and the size of the fire pit, so make sure you budget appropriately. But let's show you how to build a fire pit right in your backyard. Firepit construction isn't rocket science, but there are certainly a few tips and tricks that will help you do the job right.
Selecting Your Backyard Fire Pit Area
Carefully consider the location of your fire pit because your safety and enjoyment depend on it.
Fire pit safety recommendations are that the fire pit distance from the house is at least 25 feet and at least 7 feet away from any other structure or item.
Basically, you want it to be as far away as it can be from the house in a large open space. The fire pit should not be close to overhanging trees, plants, and other flammable structures on your property.
Lastly, consider the direction that wind blows to/from on your property.
Tip! Pick a spot that is next to the patio, outdoor kitchen, or outdoor spa for better aesthetics.
Determining The Design And Size Of Your Backyard Fire Pit
Before you start digging out the pit, you want to check the regulations regarding an open fire for your area (i.e. the fire pit code). This is important, especially if you live in an area prone to bush fires.
You also want to find out where the utility lines are buried, lest you dig them out and cause damage. Simply call 811 or go to www.call811.com to find the exact locations of the utility lines.
For a DIY backyard fire pit, you must know the basic dimensions so that you don't build one too small or too large that it looks out of proportion. You want a fire pit that is sufficient enough for everyone to gather around.
Including the width of the walls, a fire pit can be as small as 3 feet wide and as large as 6 feet wide. However, a standard fire pit should measure between 36 to 44 inches to give the fire enough breathing room to burn for a decent amount of time.
If building an above-ground fire pit, you will need to consider the height of the fire pit as well. Think of how you will probably use the fire pit – are you likely to sit around it, or stand? If you build a pit that is too tall, you will not be able to prop your feet comfortably over the edge, and if you build it too short, you're stuck having to lean in close to be able to get the warmth of the flames.
A good rule to stick to is to build it between 12 to 14 inches tall. If you prefer to be resting your feet on the edge, a height of 6 to 12 inches is good enough, and a height of between 18 to 20 inches if you prefer to sit on the edge of the pit.
Allow for plenty of room around the fire pit so you can move around freely as well as space for the chairs. You want people to move easily to and from the fire pit as well as be able to slide out of their chairs. To know the exact seating space to leave, mark the fire pit spot and actually put chairs all around it.
Fire Pit Construction Materials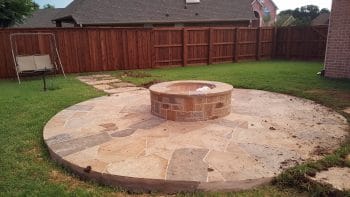 Obviously, a fire pit must be able to withstand high temperatures; therefore, choosing a heat-resistant material is only logical. Fortunately, several materials can withstand extreme heat.
Backyard fire pits made of brick, stone, or concrete pavers tend to stand out the most aesthetically. You can find a lot of inspiration online for backyard fire pit ideas and landscaping.
Brick is the traditional material. It comes in various colors and styles, making it easy to build a fire pit that complements the rest of your landscape. In terms of cost, it is an average option. Perhaps the only downside to using brick is that the bricks may start to crack over time due to prolonged contact with high temperatures.
Concrete pavers, on the other hand, are more limited in color and styles but come in large sizes. So you need only a couple to complete your installation as opposed to bricks. They are equally heat resistant, and their price tag is quite low. Concrete pavers are ideal for building larger fire pits.
Another great alternative is stacked stones. If you love the rustic look, this is what you should go for, no doubt. Stones come in a variety of colors, shapes, and sizes, making it easy to create a fire pit that suits your style. Stones, however, are labor-intensive and cost a bit little more than bricks and concrete pavers.
A steel frame kit is also a great option. It is both heat resistant and weather resistant and is extremely sturdy. It is also simple to build. You just need to have the structure fabricated, and then you do the assembly and installation.
Tip!
Pick a material that works best for both your aesthetics and function.
Materials, Tools, And Equipment Required For Fire Pit Installation
The main material to use is a matter of choice. However, you will also need gravel, concrete mix, motor mix, construction adhesive, and rebar along with your material of choice.
To facilitate your project, you will need some tools and equipment depending on the size of the fire pit you want to build.
Some of the common tools include:
Wheelbarrows

 

Brick

hammer

Tuckpointing

tool

 

Hoe

 

Metal

rake

 

Cold

chisel

 

Cordless drill

 

Margin and mason's trowel

 

Spade

 

Bucket

 

Concave jointer

 

Concrete float
You will also need some rentals like concrete mixers, shovels (if you don't already own one), and pavers saws for cutting out shapes. If you decided on a large recessed fire pit, you might want to rent a mini excavator to help you dig the pit. Or perhaps you needed to do some landscaping for your backyard fire pit area.
Remember to observe personal safety during your fire pit construction. Wear proper safety gear like safety glasses and be mindful when using tools.
Cost Of Building A Fire Pit
According to HomeAdvisor, building a fire pit could cost you as low as $300 and as high as $1,400 with the average cost being somewhere around $700.
When budgeting for your fire pit, consider the below costs:
Costs of materials




Cost of renting tools and equipment




Cost of hiring an operator

for the mini excavator or any other heavy equipment
Once you've gathered all the materials, tools, and rental equipment needed and read our guide, here's a great DIY video tutorial for building a budget fire pit to show you how to construct the fire pit. Here's another detailed and easy to follow video tutorial by Lowe's Home Improvement
About Author
Dustin Johnson is the marketing manager of FortisHD and an enthusiast in construction and heavy equipment. Construction has been an integral part of his life, and he is proud to be able to continue to build his future in such an exciting industry. Throughout his career, he has been fortunate enough to be involved with many engaging projects and is appreciated and valued for his works with the contracting team.