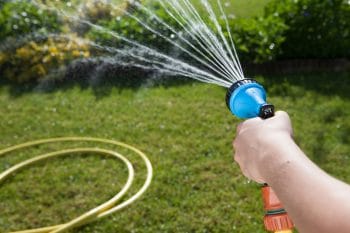 Let's face it: garden hoses are not exactly a riveting topic. But even if you do have a professional tending to most of your lawn and landscaping needs, owning (at least) one hose is still necessary. The old adage goes,"anything worth doing is worth doing right." In that spirit, we've done some research for you, to determine your best buy for the highest quality when it comes to garden hoses.
While there are probably more categories of garden hoses than you would think- or even care to read about, we've simplified the topic, and broken this article down into the two most important groups: expandable and non-expandable hoses.
Non-Expandable Garden Hoses
With the advent of flexible hoses, why would you chose an "old-fashioned" one that…isn't? The truth is, with the materials used these days, they are simply more likely to last longer.
Gone are the days of the "default" green hose that needs multiple extensions for larger yards, and will eventually crack from either heat, frost, or both. Modern materials provide a sturdiness and longevity our grandparents would envy. Furthermore, there are a few practical reasons to choose such a product, especially if you've got a lot of land.
If you have yard fowl, goats, or other small livestock, recoiling the hose every day is a hassle. And yet, leaving it strung out for easier watering means it may get scratched, trampled on, or exposed to extreme weather conditions. These are great examples of why a sturdier hose may be a better option.
Here are a few products worth considering:
Expandable Hoses
For smaller yards, or simply those with a bit less foot traffic, these guys make it incredibly easy to water the garden without creating a tangled mess. If you've ever unraveled 200 feet of hose- with one bit wrapped around a tree, and another bit somehow caught in your deck railing- you know the hassle we're referring to.
Flexible garden hoses do away with all of that drama. They're flexible when you need to reach the back corners of your garden, yet they easily retract when you're ready to put them away. Every supplier imaginable has capitalized on this design, so it can be cumbersome to sort out which ones are best.
We've done some homework for you: 
A Quick Review
When it comes to purchasing a new garden hose, your decision truly depends on your specific needs. We can't make the choice for you, but hopefully these suggestions provided the information you need about what's best for you and your yard. As always, Ryno Lawn Care is happy to help with your lawn and landscaping projects.
I've been a content developer for over a year, and I enjoy writing about gardening, lawn care, etc. to share what I've learned with others.