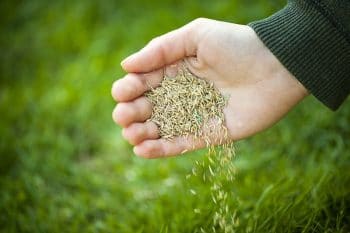 Finally, the season of sun and sand has arrived. With family vacations and weekend road trips, summer can be a busy time. Yet we think it's important to take it easy once in awhile, enjoying the warmth and greenery of your own backyard.
 Did you know there are several breeds of grass you can successfully plant in the summer, despite the heat? Bermuda grass, centipede grass, Bahia grass, Zoysia grass, and St. Augustine are safe options for the north Texas region, so long as you plant them before the daily temperatures climb above 90 degrees.
If your lawn isn't as lush as you'd like it to be, we've got some great tips on how to fix it up. Here are some tips and strategies for planting grass seeds in the heat.
Want more info on the differences between popular turf grasses in North Texas? Check out our service page on different grass types to educate yourself.
First-Class Grass Seed is a Must
The seeds that you use need to be top-quality. Using first-class grass seeds will assure that your labor yields a healthy bed of ground cover. At Ryno Lawn Care, we're happy to help you pick out a sturdy species from a trusted supplier.
Monitor the Weather
If you're facing a spell of extreme heat or excessive rain, it may be best to put off the planting of grass seeds until the weather evens out. Too much heat can stunt the seeds' growth, while too much rain can wash out the topsoil.
Know When to Water
If you want to achieve abundant green grass, the right watering schedule is critical. After you have embedded your seeds in the ground, you must keep the topsoil moist for the first 2 to 3 weeks.
Frequent watering is essential in warmer weather, to promote seed germination and prevent them from drying out. Once they begin to sprout, it's safe to water a bit less often, as brief dry periods encourage the roots to grow deeply.
When the sprouts have spread and established a strong root system, you can reduce your irrigation schedule to every 2 to 3 days. But one thing you want to avoid with new grass is allowing the topsoil to completely dry out.
Once your grass is long enough to mow, you may further reduce your watering to once or twice per week, depending on the breed. At this stage, a slightly longer dry period will further strengthen the root system.
Caring for Your Grass
During the nighttime, the increased humidity and varying soil temperatures can be distressing for seedlings. Young plants are especially susceptible to fungal infections such as Red thread disease, that can spring up in these conditions.
To avoid this misfortune, be sure the ground you're planting on is well-drained to prevent working in waterlogged soil. Fungus can thrive in this environment, while new roots struggle to breathe.
Draining and aerating your soil are great preventative measures to take prior to planting your grass seeds. Doing so will ensure a balanced and welcoming growth environment.
Conclusion
If you're ready to take on a backyard project with results you can brag about, be sure you follow these guidelines for growing a gorgeous bed of grass. With the right tools and information, early summer is not too late to renew your yard and create a lovely landscape to relax in.
Not sure which turf is right for you? Check out our service page that explains the various grass types, including their different needs, benefits, and characteristics.