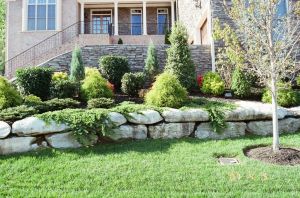 Here at Ryno Lawn Care, LLC in Prosper, Tx, we are happy to give you a free consultation for landscaping services. We want you to know your options, the costs, and the timelines, so that you're fully confident about the decisions you make when you choose us as your lawn care pros.
We use only the highest quality grass and plants for Prosper sod installs. Let us help you create the right design to compliment your home. We are confident you will love our landscaping service!
No matter the size of your yard or the level of detail in the landscaping project of your dreams, our experts will work with you to create the perfect design. Whether it's a minor upgrade to your flowerbed or a full-on makeover for your entire yard, our team is ready to bring your vision to life.
We offer a fantastic list of landscaping services, and we're happy to tailor your job to accommodate your yard's layout and your aesthetic preferences.
Our Prosper, TX Landscaping Services Include:
Adding soil to flower beds
Cleaning and adding mulch to flower beds
Selecting plants that thrive in full, partial, and dappled shade
Adding/removing annuals and perennials
Designing beautiful landscaping layouts
Installing shrubs and ornamental trees
Installing stone borders for flowerbeds and walkways
Designing and building rock gardens and waterfalls
We'll get back to you promptly to walk you through the details- options, costs, timelines, and special requests. By the time you've set your initial appointment, you will feel confident that our experts are prepared to deliver the service and products you've been envisioning, at just the right price.
Read more about our additional lawn care services available in Prosper, Tx.