Bermuda grass is a warm-season perennial grass that is a popular choice for Texas lawns. It is a low-maintenance turfgrass that grows quickly and can be planted at three different times of the year: in the spring, summer, and fall.
This type of turf is not only chosen for residential lawns, but also for athletic fields and golf courses as well.
Check out our weed and feed schedule to find out everything you need to know about when to fertilize your lawn.
Pros of Bermuda
There are several pros to planting bermuda grass in Texas. These include:
It is easy to grow and maintain: This type of grass is very low maintenance and also attractive to the eye.
It is resilient: Bermuda grass is durable, withstands high traffic without easily wearing out, and has a great recovery rate. It can also withstand long periods of drought better than any other type of grass.
It is affordable: Bermuda seed is not as expensive compared to other grass seeds. It requires little maintenance and won't cost as much as other grass types that require extra watering and fertilization.
It can grow on just about all soil types: Bermuda seed is not only resilient, but also adaptable to different types of soils.
Cons of Bermuda
Bermuda grass does come with some cons that are worth noting. These include:
It does not tolerate cold: Bermuda grass does not do well in cold weather and in shades. This grass needs plenty of sunlight to thrive and might lose its color and lush appearance in several repeated days of cold weather.
It is aggressive: Bermuda grass is also known as Devil's grass because it tends to grow quickly and widely. If you are thinking about planting you'll need to keep an eye on it, or it might creep on flower beds or sidewalks.
It requires frequent mowing: It needs frequent mowing, at least once a week, to avoid it growing too much, too fast. If you require any help with lawn mowing, JC's Landscaping is at your service.
Best Time to Plant Bermuda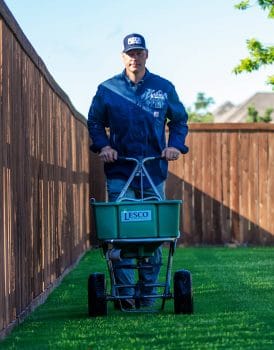 Bermuda should be planted when the soil temperatures are consistently warmer. In Texas, the best time to plant bermuda seed is late spring and early summer, which is after the soil warms and spring frost danger has passed.
Bermuda seeds germinate best at soil temperatures between 65°F and 70°F. 
You can plant bermuda grass in the fall, but it needs to be done at least 90 days before the first frost. This works well for the purpose of overseeding, especially in Texas because we experience high temperatures well into the fall season.
Common Types of Bermuda in Texas-
Bermuda grass comes in several varieties, but there are two that are commonly found in Texas lawns.
Tifway 419
Common Bermuda
TifTuf
Hybrid (Tifway 419)
It is one of the toughest hybrid grasses with a dense and high recuperative potential.
It is also resilient given that it will only go dormant after being exposed to repeated winter frosts and will turn green as soon as the temperature reaches 45 degrees. It is fast in root establishment, growth rate, and spreading.
Common Bermuda
This type of Bermuda grass can be seeded and is much coarser. It has much larger leaves, and a longer stem length between the blades (internode length).
It is fine-textured and dark green in color. Common bermuda has aboveground and underground stems, which help it to  establish roots and spread quickly.
TifTuf
TifTuf is a softer variety and bright green in color. People often say it is the best looking of the bermudas.
It holds its color longer in the fall and pops back up faster in spring than other grass types. This type of bermuda recovers well from drought and has a pretty good tolerance for shade.
Tips for Planting Bermuda Seed
Bermuda seeds must have a thin soil covering for them to germinate properly.
Bermuda grass requires little water although fresh seeds will need daily watering until the establishment is more noticeable.
As a warm-season seed, bermuda seed should always be planted in the full sun.
It is drought-resistant, which means one needs to avoid accidental overwatering.
Some types of bermuda should only be planted from sprigs or sod. For more information about sod installation vs seed, contact Ryno Lawn Care today.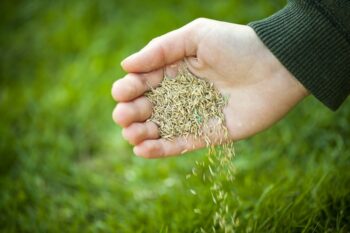 Wrapping Up
Bermuda grass is one of Texas' favorite blends due to its minimal water requirements and ability to handle plenty of sun and traffic.
Bermuda grass is one of the best turfgrasses for a beautiful lawn. It won't wilt in the scorching sun or die when pests come around and prove to be a challenge.