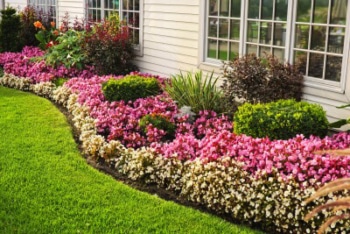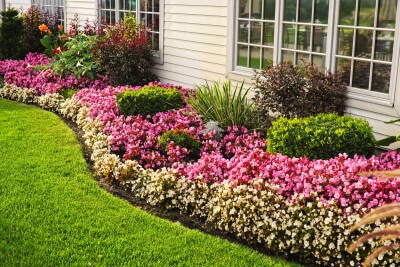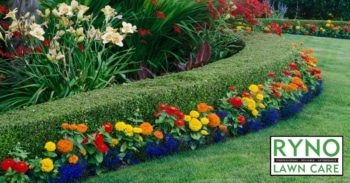 Creating And Planting Your Garden
Gardens located throughout the yard and landscape offers a large variety of options to choose from. Planting flowers, shrubs, decorative grasses, as well as creating lines and height will highlight your garden more than just having pretty flowers.
Ryno Lawn Care will install edging and build raised flower or garden beds.  We also plant flowers, shrubs and many types grasses and ground covers.
Keep your landscaping looking it best with Ryno Lawn Care's Garden Landscaping.
Design Services
A big part of our garden landscaping service involves the design of what you want.  Our staff has the experience and knowledge to help you decide which plants will look best in the front and which plants will look best in the back of your beds.
We know that plants should be planted in groups of 3, 5, 7, or 9.  Doing so creates color uniformity and contrast to the design.
Odd numbers have a more natural look and are visually balanced and harmonious.  When you have groups of plants with various textures, it is appealing to the eye.
You will find 3 main types of textures among plants- fine, medium, and coarse.  Designing a landscape with a combination of colors will boost your curb appeal.
We will design your outdoor space based on your preferences.  Do you want more perennials or more annuals?
Would you rather do it once and be done or do you want to change things up each season with annuals.
Landscape Analysis
We will send a team member out to analyze your landscape.  We want to know which parts of your yard get full-sun and which parts do not.
Are there any areas in your yard that are full-shade?  How well does your soil drain and what type of soil do you have?  Do the areas have access to sprinklers or will they be watered manually?
We will consider the shrubs and plants you want and note how they will complement the plants that are already in the ground.  Our team members will outline the strengths, resources, and needs of your particular outdoor space.
All of this information will provide a framework for the design process.  In addition to all those things, Ryno Lawn Care always keeps the needs and wants of our clients in mind.
Types of beds and styles
There are two main types of flower beds: island beds and borders.  There are two common ways to style your beds: formal and informal.
Read on for more information.
Island Beds
Island beds can be viewed from all sides.  They have no backdrop.
They typically have a center anchor, but the anchor can also be offset to one side or the other for a more dramatic feel.
You can find island beds in round, square, rectangular, and amorphous shapes.  With island beds, the taller plants are centered on the anchor.
Borders
A border is anchored by a backdrop which is usually a house, hedge, or fence.  Borders are long and skinny and often have a path or walkway alongside them.
With borders, the tall plants go in the back, followed by medium-sized plants in the middle, and the small plants in the front.
Formal gardens
Formal gardens are strategic.  They use specific shapes for their design like, circles, rectangles, triangles, or straight lines.  These are more common in a commercial setting.
Informal gardens
Informal gardens are more mellow and relaxed.  They are made up of curves.  Plants of different heights will be placed together.  These gardens are more common in residential settings.
Why Choose Us
Ryno Lawn Care is a company you can trust.  We offer a wide range of landscaping services.  We believe if you can envision it, we can make it happen.
Our company has been providing outstanding landscaping services to customers in the DFW areas for over 10 years.  We will transform your outdoor space into the one you've always wanted.
We have the resources to get the job done right.  Whether it's just putting new plants in the beds you already have or completely starting from scratch, we've got all your landscaping needs covered.
Landscaping can be a stressful and tedious job if you're doing it on your own.  Plus, if you make any mistakes, the costs add up quickly.  Let Ryno Lawn Care do the hard work for you at an affordable price.
Get a free quote today and get the process started!