In addition to our traditional landscaping services, Ryno Lawn Care, LLC is now offering river rock landscaping as a beautiful low-maintenance option.
Using ornamental rocks as ground cover is a form of landscaping known as "hardscaping," and it's growing in popularity due to its beauty and efficiency.
Providing choice landscaping to both commercial and residential properties. And so we are proud to offer this new addition to our service package.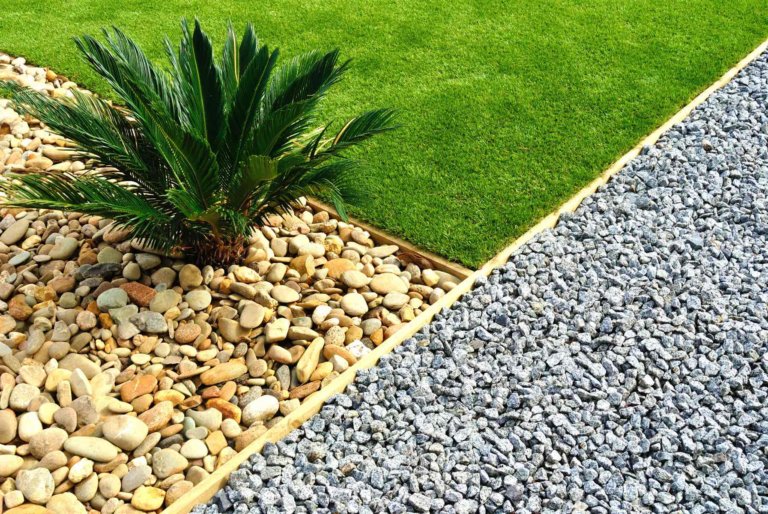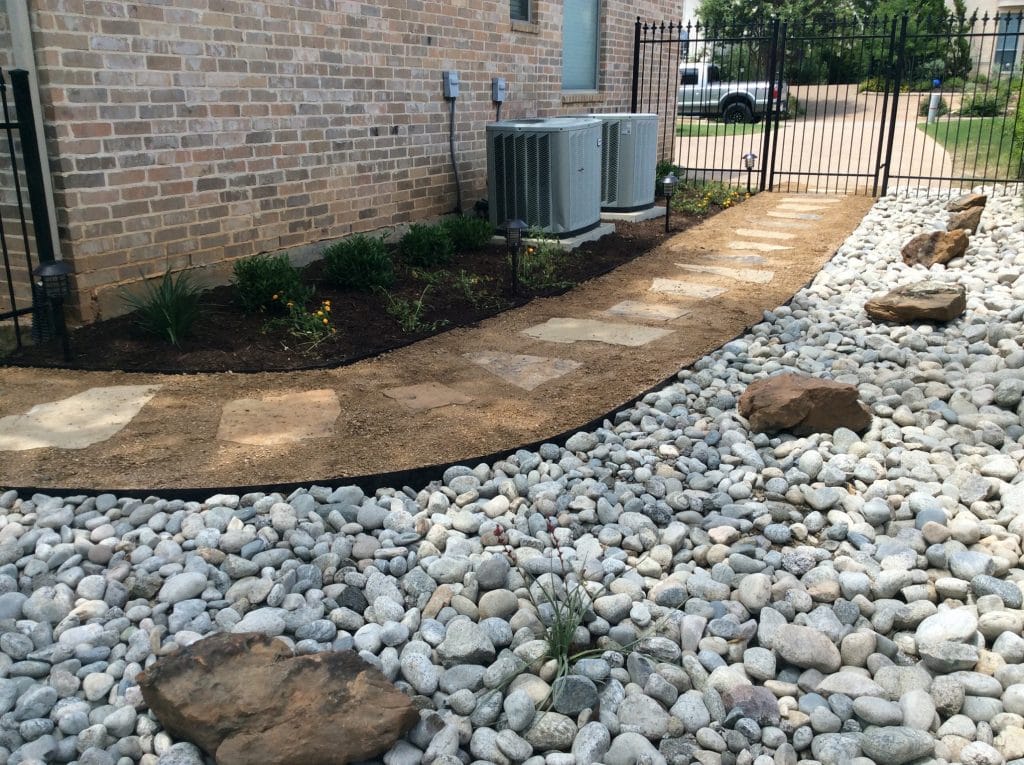 Benefits of River Rock Landscaping:
River rocks are sourced naturally, and are enjoyed for their smooth edges. This happens organically from years of knocking and sliding against each other in the river's currents. Some are "tumbled" commercially to ensure a thoroughly smooth texture.
They're typically found in shades of grey, blue, white, and sandy brown. However,  some varieties are much more diverse and colorful, depending on where they were sourced. 
Ryno Lawn Care will send out a specialist to discuss the details with you regarding placement of your river rock landscaping. Issues of consideration include:
Trees, shrubs, decking, pools, pathways, fountains, and flowerbeds to either be worked around or integrated into the river rock installation.
Sprinkler heads, slopes, hills, and borders to be mindful of.
Placement and coverage; Integrating the river rocks into ornamental features you've already installed. (*see more design-related details below)
Style, size, color, and amount of river rocks that will work best for your project.
Once these details are clarified to your satisfaction, our professionals will set an appointment to come out and commence the installation. Steps we will take to complete the job: 
Clear out any unwanted vegetation in the established area, and dig up top layer of soil.
Lay and smooth out a base layer of sand. This helps prevent soil from rising and mixing into the river rocks during rain storms. 
Reinforce perimeters with concrete, brick, stones, or lengths of stripping, as necessary. 
Lay and smooth out the river rocks, fine-tuning the borders around any tree trunks or other established fixtures (e.g. sculptures, stepping stones, etc).
Our most important step in this process is the final one: ensuring that you are fully satisfied with the aesthetics and craftsmanship of your new river rock landscape. We won't pack up and leave until we've answered all of your questions, and addressed any concerns you may have about maintaining your new landscape. 
River Rock Landscaping creates an attractive natural looking border alongside trees, shrubbery, flower beds, decks, and vegetable gardens. It is also easily integrated into other functional and ornamental structures, as a rustic ground cover. Fountains, sculptures, cactus/succulent gardens, larger rock gardens, and even stone pathways can be further enhanced by the installation of a river rock garden.     
When it comes to maintaining a beautiful yard, Ryno Lawn Care knows it's not just about keeping your lawn and plants healthy. We're passionate about giving you a beautiful landscape you can take pride in, and we're happy to match your vision with an array of creative options.