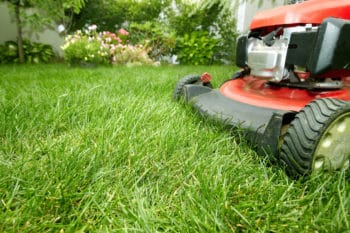 It is recommended to mow your yard on a weekly basis, during the warm season, as this will help ensure a lush, green lawn.  Mowing and watering are the two main factors in keeping a healthy lawn without weeds.
Click to read our lawn watering guide
---
Weekly Mowing Services Include:
Lawn mowing – best if no more than 1/3 of the grass blade is cut off, hence why weekly mowing is necessary.
Edging – around landscape borders, sidewalks, pathways and driveways.
Blowing away debris – final touches, clean up
Bi-weekly mowing is preferred in the offseason, cooler months, when the grass doesn't grow as much.
As low as $23.50 – Weekly Full Service Lawn Mowing & Maintenance
Discount with Annual Maintenance Package: Contact for Pricing.
Weekly Mowing Mar-Oct
Bi-Weekly Mowing Nov-Feb
Full Service Maintenance
Mowing grass that has grown too tall results in cutting too much length off the grass blades, which can result in a brown or yellowish discoloration of the lawn. Long grass clippings can also contribute to an underlying condition called "thatch" that creates a carpet of clippings near the base of the grass preventing water, oxygen and nutrients from reaching the grass roots and requires more maintenance down the line to keep your grass healthy.
Ryno offers a full service lawn care package to include the following:
Weekly Mowing Service
Shrub Trimming – Quarterly
Flower Bed Cleanup
Lawn Fertilization – 8 Treatments per year
Aerating – Once per year
Leaf Cleanup
Contact us for Pricing.  We will take a look at your lot size and consult with you about services.  Thank you for your consideration.