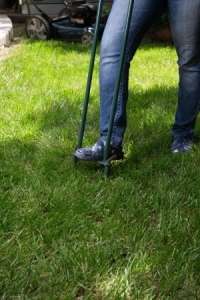 There are a number of different ways to aerate your lawn, but you may be wondering why you should do it at all. Aerating on an annual basis is a very important part of lawn care maintenance. It relieves soil compaction that is caused by people and pets walking about on your yard.
The process allows air into the soil and lightens the texture of the soil. This helps keep your lawn healthy.
When you aerate, you can undo the damage caused by repetitive and habitual walking that causes paths to be cut through your yard. You can undo the bare spots caused by pets pacing back and forth or kids playing on outdoor play equipment.
Two Main Types of Aeration
1. Core Plugging/Aeration – This is the aeration method that most people are familiar with. With this method, a machine is used to remove soil plugs from the lawn. These plugs are left strewn about the surface of the grass. This method helps break up compacted soil and facilitates air getting into the grassroots system. Additionally, this type of aeration facilitates the delivery of nutrients and water directly to the roots. It's best to use this method in the autumn. Follow-up with grass seed and fertilizer.
2. Aerovating – A different sort of machine is used for aerovating. It is equipped with rapidly vibrating tines that penetrate deeply and break up soil compaction in a very effective manner. It's best to use this method on dry soil. If your soil is wet, you should use the core aeration method.
It's great to have an inviting lawn that increases your home's curb appeal and value and provides you with more living space. Follow the aeration tips here to keep your lawn in perfect condition year round.
Get your lawn aeration done by a professional with Ryno Lawn Care – call for a free estimate today: 214-728-8894