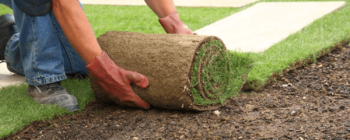 As warmer weather approaches, thoughts often turn to spring and summer lawn preparation. If your lawn has suffered from bad weather or weed infestation and is less than 50% healthy grass, new sod may be the best way to bring it back to life.
While it takes quite a bit of prep work before you can lay sod, the payoff is a lush, green lawn in less time than reseeding. Here are the steps you need to take to prepare for new sod installation:
Soil Testing
Removing Old Sod
Clearing the Area
Establishing a Rough Grade
Adding Compost and Treatments
Adding a Sprinkler System?
Smoothing Out the Grade
Adding Fertilizer
Time to Lay the Sod!
Soil Testing
Having your soil tested for deficiencies is a good place to start. Finding out the pH of your soil and nutrients needed can help in getting your new sod off to a good start and keep it from failing for the same reasons your previous grass failed to thrive.
Read more about the importance of soil testing.
Removal of Old Sod
First thing you need to do in preparation for new sod is to remove the old, dead grass and sod.
About two weeks before you are ready to lay new sod, treat the area with a non-selective vegetation killer. Be careful when spraying, as it will kill any plant life it touches, so avoid shrubs and landscaping you want to keep.
These chemicals can also be harmful to humans and pets so read and follow all instructions carefully.
Clear the Area
Rake up and remove any rocks and debris that might cause problems and make aerating difficult. Remove the dead grass and weeds from the lawn area that cannot be broken up with a rototiller.
The easiest way to remove old sod is with a sod cutter, which can be rented from your local home improvement store.
Establish a Rough Grade
Lawns need to be graded so that water runs away from your home's foundation. Water collecting around the foundation can lead to settling and other foundation issues. Cut down higher spots and fill in any holes with topsoil.
Add Compost and Treatments
At this point, you can add any treatments your lawn may need as a result of the soil testing. Now is also a good time to add compost to help prep the soil and give the new sod the nutrients it needs to thrive.
Using a rototiller, till the compost 4 to 6 inches deep into the soil. Use about 3 to 6 cubic yards of compost per 1000 square feet.
If your ground is too hard, water it the night before to help soften it up for this step. It may take multiple passes with the tiller to get the soil broken up and the compost mixed in well.
After mixing, firm up the area by watering or packing down the soil.
Add a Sprinkler System?
At this point, consider adding a sprinkler system.
Sprinkler systems help save time, money, and water by helping you water more efficiently. Systems can be set to water automatically in the night, while you are not home, and in cycles to help prevent runoff.
For best results, hire a professional for the installation. Ryno is happy to assist with this project! Check out our Lawn Irrigation service page.
Fine Grading
After the sprinkler system has been installed, fine grade the soil with a rake. Remove any additional rocks or large dirt clods that have been brought up by tilling or the sprinkler installation.
Soil should be 1 inch below any driveways, patios, sidewalks, and edging. It should be smooth and clump free. All grading must be done before laying the sod.
Add Starter Fertilizer
Now is the time to add a starter fertilizer. Starter fertilizers have phosphorus, which helps establish healthy roots. This will help get your new sod off to a good start. Lawn Fertilization Services are just one among many lawn care and landscaping services Ryno offers our customers in the D/FW Metroplex area.
Adding Sod
Some choose to buy sod straight from a grower. At Ryno Lawn Care, we take care of that for our customers by using the best quality sod growers in the D/FW area. Their products are guaranteed to be healthy and free of weeds and insects.
If you're ready to get a new bed of sod, get a free quote from our Premium Sod Installation service page!
Hiring a professional to install your sod is a good idea to be sure it is put in quickly and you are off to a green, healthy lawn in a short time. Our lawn care professionals know how to complete this process in a precise and effective way, and will leave you with the proper after-care instructions to ensure that your new turf with thrive.