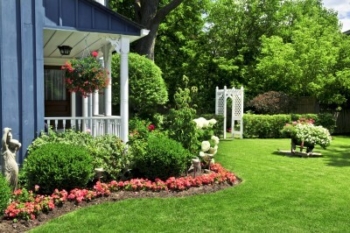 Ryno Lawn Care in The Colony, TX provides everything you need in the way of lawn care services at fantastic low prices that include great customer service.
What Can you expect from Ryno Lawn Care in the Colony, TX?
Ryno Lawn Care loves to make customers happy. In fact it's our first priority, so we do everything we can to provide excellent yard and lawn care services at great prices. We aren't happy until you're happy.
Your Yard Will look Great With Weekly Lawn Care from Ryno Lawn Care in the Colony, TX
It is best for both the appearance and health of your lawn for it to have a slight trim frequently.  This treatment helps it to grow properly and look freshly manicured at all times. Our weekly lawn care service will keep your yard looking beautiful while you relax. You can count on Ryno Lawn Care professionals to arrive at your home on a regularly scheduled basis to attend to your yard and lawn care needs. In the event bad weather delays service, we will reschedule at the earliest possible appointment.
 Flexible and Reasonable Policies Make Ryno Lawn Care in the Colony, TX Great To Do Business With
You will receive a free consultation followed by the presentation of a formal estimate of costs. Your reasonable and affordable price will be determined depending upon your property size and the type of landscaping you have. Your lawn care professional will review your estimate with you to ensure everything is clear and agreeable before starting work.
Ryno Lawn Care in the Colony, TX is happy to have new customers and one time customers in addition to our many repeat customers. We cater to both individuals and handle businesses and jobs both large and small. We offer clear-cut terms of service that are easy to follow.
To learn more about Ryno Lawn Care in the Colony, TX simply give us a call at 214-728-8894 or fill out our convenient online request form to get your appointment for a free, no obligation consultation. Contact
Ryno Lawn Care today to learn how you can enjoy the finest in lawn care services at competitive prices.
Also give us a call today for:
Other Resources You Might Find Useful:
Before You Buy Lawn Fertilizer