Coppell Weed Control & Fertilization
There are two main types of weed killers, but the key is to apply the proper fertilizer at the correct time of year.
Pre-emergent herbicides: These work to destroy weeds before they bud from the soil, therefore should be applied as early in the season as possible, before weed growth begins.
Post-emergent herbicides: These work to destroy weeds after the weed has grown out of the soil, so should be applied when weeds become visible.
Applying fertilizer is generally done throughout the year, with the spring and fall being the main time frames. Good months for the first application are March or April, during the height of growing season, or mid-spring.
Early fall, such as September and October, makes a good time for the last application. Times of extreme heat or cold should be avoided when applying fertilizers, especially during winter frosts and hot summer mid-afternoons.
Deviations of these rules are to be expected, according to the variance in grass species, location, and climate.
Get Rid of Weeds Without the Hassle
Weed control is about staying on top of the problem before it starts. 
Regular lawn mowing with high blades really helps the grass roots and eliminates weeds. 
Water less often but still enough to not dry out the soil too much. 
And regular lawn fertilization.
Ryno Lawn Care helps with 1 and 3.  We guarantee the greenest lawn on the block without weeds when you use our lawn fertilization program.  Contact us today to get started.
What Our Customers Say...
Get the greenest lawn on the block with Ryno's weed control and fertilization program.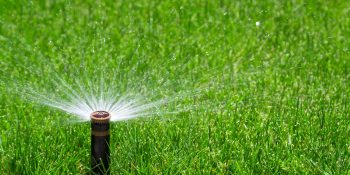 Many people yearn for lush, green grass in their yards,...
Read More