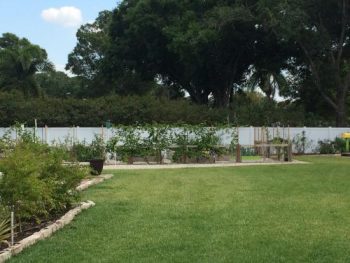 Gardening is a special activity which is both relaxing and potentially stressful! It doesn't matter whether you are a professional gardener, or just have a small piece of gardening paradise in your backyard.
Using your hands to create something special is a lot of work, yet very fulfilling. Sharing the excitement with someone you love is even better, and there are many ways to do that. Let's explore some ideas about how to share your gardening experience with your children.  
Need some help? Visit our garden landscaping service page.
Veggie Patch
There is no better feeling than growing your own vegetables in your backyard garden. You don't have to worry about chemicals because those vegetables are grown by your hands.
First, you can start by showing your children what and how the garden should be laid out. Once you've caught their interest, you can help them plant their own. Pick a few veggies which are easy to grow, and teach your kids how to take care of them. 
Once the vegetables are fully grown, your kids will appreciate seeing the tangible results of their hard work! 
Divide the backyard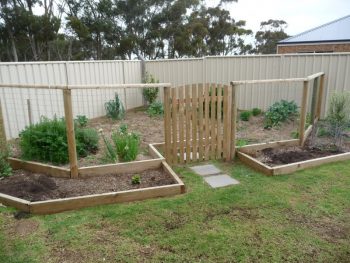 Kids will be kids, which mean that they need adequate play space in the backyard, with boundaries around the areas they shouldn't venture into. Because of that, it's a great idea to divide the backyard with a small fence. A large and foreboding barrier isn't necessary, especially considering that you want them to be able to go into the garden area to help out when appropriate. 
Make a safe area for your toddler
If you have a small child or a toddler, it is always a good idea to keep them close to home. Having a big backyard is a dream, but having a small child in a big backyard can be dangerous. Due to that, it's good to create a safe space for your toddler to enjoy being outside.
It can be a small grass patch filled with his favorite toys, or it can be a sandbox you made for him. It is entirely up to you to organize that corner the way you like it, as long as it keeps them away from delicate plants and potential safety hazards.
Keep the gardening tools away
Having a shed for your gardening tools is a must, especially when you have kids. Kids are curious and they love to explore. This is certainly true for your toolkit. That means it's imperative to keep your gardening tools safe and away from small hands. 
It may be beneficial to get them a toy set of tools for themselves, so they can learn how things work without the risk of handling sharp or heavy objects.That way, your kid can still feel like they're part of the action without the risk of getting hurt. 
Take advantage of trees in your yard
If you have a strong tree in your backyard, attach a tire to the biggest branch and let your kids enjoy their new swing. That is not something we see that often today, but it's still a fantastic addition to your backyard play area.  
Author bio:
Mark is a foosball player and a blogger who made the best hobby in the world by combining his two passions – blogging and foosball. His best hobby in the world is called the Foosball Zone and he loves to share his experience with his loyal readers. If you want to be a part of his blog, you can read about it here.
dd