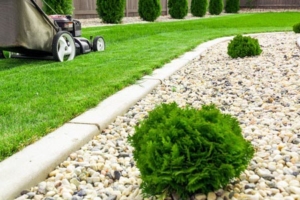 Using rocks for landscaping can be very beneficial. Landscaping with rocks brings a permanent solution rather than the use of mulch which decomposes over time.
While both of these types of landscaping have their unique pros and cons, choosing rock landscaping over mulching offers more benefits in the long term.
Benefits of Landscaping with Rocks
On one hand, rock landscaping involves the use of inorganic materials such as river rocks, sand, and crushed gravels. Using this method could provide more aesthetic value. Rock landscaping is more expensive to put in place when compared with mulching.
However, the lesser cost of maintenance makes it a potentially cheaper option as it may never need to be replaced due to its high durability. Also, rocks are more effective weed deterrents, so chemicals are not needed to keep weeds and unwanted plants at bay. It is immune to fungal invasion, so the appearance is preserved for a longer period. In addition, it does not harbor risks of fire disasters due to its fireproof nature.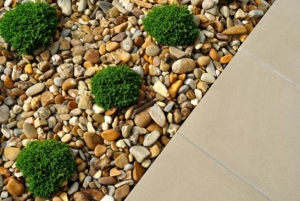 Benefits of Mulching
On the other hand, mulching involves the use of organic materials such as shredded tree barks, wood cuttings, and compost to cover top soil. In some cases, plants, such as eucalyptus and some species of grasses are introduced to give a garden-like look. Using this method provides a cheaper means of applying landscaping to a structure as materials used can be found in nature.
Also, the ability of mulches to hold the top soil together helps to prevent soil erosion as well as retain moisture. In terms of further benefits to the soil, mulches provide nutrition when it decomposes and also helps to maintain balanced soil temperature.
Additionally, mulch landscaping could provide an attractive view especially to individuals who are obsessed with gardening due to the natural feel it provides. However, since organic materials are biodegradable, mulches require regular replacements after they might have decomposed; this makes it costly to maintain. Its organic nature also presents a fertile ground for fungal growth which could be repulsive and also counteract its initial purpose.
Furthermore, the flammable nature of mulch materials poses a serious fire risk especially in areas that are prone to wildfire. Growths of weeds are also common drawbacks of mulches unless natural weed deterring plant species are used such as eucalyptus.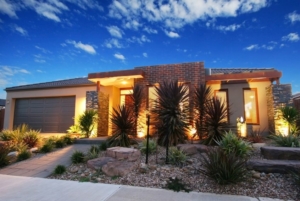 Overall, mulches are effective landscaping materials; it could be the most preferred option for individuals who love natural environments. However, it is not safer and cheaper owing to its flammable nature and annual costs of renewal when compared with rock materials. In this regard, decorative rocks present greater value in terms of appearance longevity, non-flammability and lower costs of maintenance.
Also, choices can be made as it comes in different sizes, shapes, and colors; it could also be adapted to suit different environments whether residential or commercial, unlike mulches which are best used in residential buildings.
Learn more about Ryno Lawn Care's landscaping services!
---
Desert Style with Rocks Instead of Mulch
a stone walkway winding its way through a tranquil garden

beautiful house front yard landscaping with rocks

cactus and other desert landscape plants

desert garden on patio

desert landscape ideas with plants in pot