Frisco Sod Installation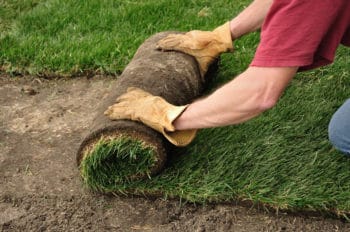 Ryno Lawn Care, LLC is your online source for sod installation in Frisco, TX. We are a full service lawn care and landscaping company since 2009. We install only the highest quality sod grass to help your lawn become healthy and beautiful.
We offer very competitive rates for Frisco Sod Installation. Please give us a call to get a free estimate on sod installation in your Frisco, TX home.
(214)728-8894
Our Professional Sod Installation Process:
Flag/test sprinkler system
Remove top growth
Till top soil
Grade/Level top soil
Lay sod in brick style pattern
Roll/flatten new sod
Test sprinklers for any damage
Give you watering instructions
Frisco lawns need warm season grasses
The most common warm season grasses are Bermuda, Palmetto St. Augustine and Zoysia.  Installation and delivery prices can fluctuate.  Please give us a call for a free consultation or fill out our quote form.
We also offer full service landscaping in Frisco, TX
[otw_shortcode_tabslayout tabs="2″ tab_1_title="Related Pages" tab_1_content="<ul class='tab-items'><li><a href='https://www.rynolawncare.com/lawn-services/frisco-landscaping/' target='_blank'>Frisco Landscaping</a></li><li><a href='https://www.rynolawncare.com/lawn-services/frisco-lawn-care/' target='_blank'>Frisco Lawn Care</a></li></ul>" tab_2_title="Resources" tab_2_content="<ul class='tab-items'><li><a href='http://en.wikipedia.org/wiki/Sod' target='_blank'>Sod Wiki</a></li><li><a href='http://www.friscogreenliving.com/the-green-life/home-garden/learn-your-native-grass-species/#axzz3DDLdn0zt' target='_blank'>Native Grass Species</a></li><li><a href='https://aggieturf.tamu.edu/answers4you/publications/Select%20&amp;%20InstallSod%20SCS-2009-07lr.pdf' target='_blank'>How to Select Sod and Install</a></li></ul>" css_class="vg-rss-curator-replacement"][/otw_shortcode_tabslayout]