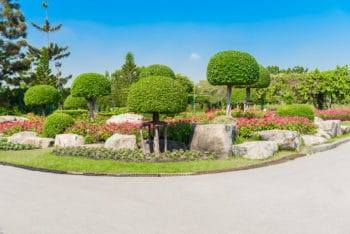 Curb appeal is the good impression people get when they first pull up in front of your house. Nothing provides better curb appeal than a well-tended lawn, yet it can be very challenging to keep your lawn and yard in top condition. If you've experienced this problem, why not give premium lawn care from Ryno Lawn Care in Highland Village, TX a try?
Residential – Commercial – Acre Lots
Fair, Competitive Pricing
Any size property
Over 10 years as #1 lawn care in North Texas
Guaranteed Weed Control
Customer Service a Top Priority
Ryno Lawn Care in Highland Village, TX offers complete lawn care services at highly competitive prices.  Our high ratings with customer reviews suggest we are the best professional lawn care service in the DFW area, specializing in working in close partnership with customers to provide customized services and complete customer satisfaction. That's why Ryno Lawn Care in Highland Village, TX has an excellent reputation for the best in customer service and in yard and lawn care.
Our Highland Village Lawn Care Guarantees Great Curb Appeal
Ryno Lawn Care in Highland Village, TX weekly lawn care service will keep your yard looking gorgeous and allow you to enjoy your yard effortlessly. When you hire Ryno Lawn Care, LLC professionals to mow, weed, edge and blow away debris, you can simply relax and enjoy your freshly manicured yard.
For year round yard and lawn care, choose Ryno Lawn Care in Highland Village, TX Full Service Lawn Care, and you will never have to worry about:
Weeding & edging
Leaf and debris blowing or raking,
Tree and shrub trimming
Spring cleanup
Fence construction
Ryno Lawn Care in Highland Village, TX serves a wide variety of clients. New customers and one time customers are always welcomed as well as repeat customers.
Regardless of the type of property you have or the kind of lawn service you seek, Ryno Lawn Care, LLC terms of service are straightforward and easy to follow. Before any work begins, your lawn care specialist will review the terms with you to be sure everything is clear and to your liking.
We are happy to provide you with a free, comprehensive estimate. Telephone 214-728-8894 or fill out the simple online request form to schedule an absolutely free, no obligation appointment for a yard and lawn care consultation. We want your business! That's why we offer competitive prices streamlined to meet the needs of each property and each client. Get excellent professional lawn care services at truly competitive prices right here in the DFW MetroPlex.
Contact Ryno Lawn Care in Highland Village, TX today.