Every vigilant homeowner knows that, when it comes to maintaining a healthy lawn, you've got to understand the problem you're facing in order to treat it effectively. Pythium and dollar spot diseases are common lawn diseases found in North Texas turfgrasses.
Here is the tricky part: these diseases look very similar in the way they affect your turf.
It is very difficult to determine what disease has overtaken your lawn, simply based on how it looks. Read on to learn how to tell the difference between these two pesky diseases.
Let's take a look at how to differentiate the two, and how to eradicate them: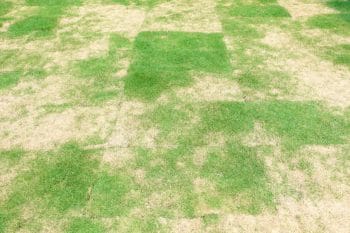 Pythium Lawn Disease
This disease tends to attack cool-season grasses, so it's somewhat less of a threat to North Texas lawns. However, it's still good to know what to look for, especially if you have a mixed grass bed that includes both warm- and cool-season grasses.
Pythium lawn disease prefers hot and humid weather, making it a great candidate for North Texas springs and summertime. It initially appears as  small spots on your grass blades. These will quickly turn to spots or patches in your lawn, which is what makes it easily mistaken for dollar spot disease.
However, pythium will eventually elongate in its growth patter, creating streaks of dying grass that include dried and shriveled blades. They may look grey or light brown, and might have a white-ish webbed appearance in early morning light.
As for prevention and protection, a well-drained lawn with good aeration is your best bet. Be sure to check your soil's mineral balance and be sure it isn't too nitrogen heavy. Ammonium sulfate, as well as fungicides, are helpful in both killing and preventing pythium lawn disease.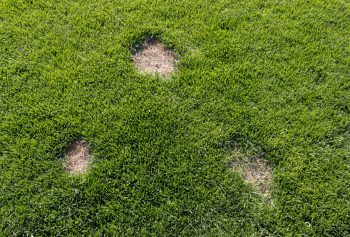 Dollar Spot Disease
This fungus is different from the others, in that it only affects the blades of your grass, but not the roots or stolons. Nevertheless, it can make for a very unattractive lawn, so it is to be avoided.
The disease prefers high temperatures and humidity, just like pythium lawn disease. And it shows up initially in small round yellowish spots. As stated before, this is what makes it initially difficult to differentiate the two.
However, dollar spot disease will continue to spread in spotty clusters rather than elongating. In some cases, the grass blades may turn from yellow to a rusty brown color.
Unlike pythium disease, dollar spot enjoys low-nitrogen soil, which means that adequate fertilization practices can help minimize the occurrence of this disease in North Texas lawns. Adequate watering and drainage, provided in a way that keeps the soil moist but doesn't oversaturate the grass blades, is best practice. Fungicides are also helpful in avoiding dollar spot disease.
If you're looking for more information about common fungal diseases in North Texas, check out our all-inclusive article on North Texas lawn diseases!
Wrapping Up
In conclusion, understanding the differences between pythium and dollar spot disease is crucial for effectively managing and treating these turfgrass issues. While both diseases can cause damage to your lawn, they have distinct characteristics that set them apart.
Pythium, often referred to as "grease spot," thrives in wet and humid conditions. It attacks the roots and crowns of grass and causing rapid wilting and browning. On the other hand, dollar spot disease is characterized by the formation of small, straw-colored spots. These spots eventually grow into silver-dollar-sized patches.
It tends to occur in areas with low nitrogen levels. Additionally, it is exacerbated by drought stress. Now you are able to identify the specific symptoms and execute the correct solution. You will effectively combat and prevent the spread of these diseases if your lawn becomes affected.