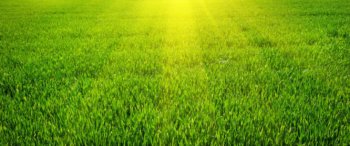 Early spring is a great time to get organized for the season. Not only is this an opportune time of year to do some maintenance work around the yard, but there are a few regular lawn care tasks you can go ahead and resume.
Seasonal lawn care can be tricky, because you want to make sure your timing for certain tasks is beneficial rather than harmful.
Here are a few things that are safe to address in late winter and early spring.
Outdoor Repairs
With the weather warming up but many plants are still dormant, many choose to take advantage of early spring for some basic outside repairs. 
Perhaps your deck or fence has a few loose boards that need securing. Or maybe the stone boundaries around your garden need to be sprayed down or repaired.
This is also a good time to reseal your deck or clean out any water features that have gathered debris. 
Lawn Fertilizing
You don't want to apply a lawn fertilizer too early in the season, because it can feed weeds instead while your grass roots are still dormant. Wait until the blades have been green for 2 or 3 weeks before applying the product. 
Checking your soil's pH in the yard and garden will give you the right information for purchasing appropriate fertilizers.
Most North Texas soil is fairly high in clay, with the most commonly used turf grass needing products that are nitrogen-rich. Additionally, some shrubs and evergreens prefer acidic soil, which may require adding a bit of aluminum sulfate.
Our turf fertilization program is tops in the industry.  Click to learn more.
Mowing
Go ahead and start mowing, as your grass emerges from dormancy.
Mowing frequently during early active growth promotes stronger roots. Additionally, the clippings left behind will fortify your soil and feed the root system.
If you have an excess of debris, you may want to rake first. However, a bit of dry leaves and twigs that are small enough to be broken down by the mower should be left in place, to fortify the soil.
Learn more about lawn mowing services with Ryno Lawn Care.
Trimming
If you didn't do any trimming over the winter or late fall, now is the time to take care of that, before the foliage gets too dense to see trouble spots.
For larger limbs, remember not to cut directly against the trunk, or you risk removing the part of the branch that promotes healing.
Trimming and pruning is a seasonal lawn care chore that needs to be addressed about twice per year, depending on your plants' growth patterns.
Planting
If you have plants you've been cultivating indoors, it's safe to go ahead and transfer them to the garden after the season's last frost.
Be sure to mulch your garden and around your shrubs, after cleaning out any debris that has built up over the winter.
Learn more about Preparing Your Garden For Spring.
Dethatching and Aerating
Dethatching and aerating may also be necessary in your spring prep work.
Learn more about the when and how with Why is Lawn Aerating Important? Need some help with this process? Here is our service page for aerating. 
Weed Control
A pre-emergent herbicide can be applied in late winter to stay a step ahead of weeds. Just be sure you allow at least 6 weeks between the application and planting new grass or garden seeds.
For post-emergent products, be sure you use a selective type for treating weeds in your lawn, so as to avoid harming your grass. 
Here is more information on when to use pre- and post-mergent herbicides.
Watering
Once the season's last freeze is behind you, it's safe to go ahead and resume your irrigation schedule.
Remember that, once your grass bed is in full swing with active growth, it's a good idea to give occasional dry spells in order to encourage deep root growth. 
Read our detailed lawn watering guide.
Spring Cleanup
Get your lawn and landscaped areas cleaned up before the grass starts growing again, to make sure there is enough sunlight reaching the soil and roots.
Learn about Ryno's leaf removal services.
In Conclusion
Hope you enjoyed this information and it helps you with keeping your lawn healthy and green.  Don't forget to bookmark this page for future reference and leave a comment below if you have any questions.