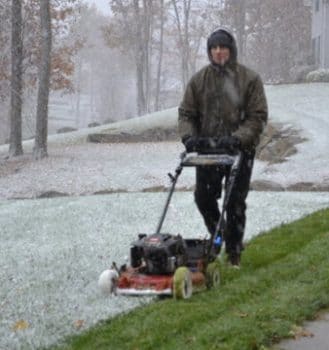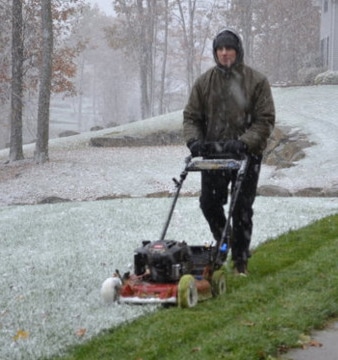 While winter lawn care is certainly less involved than what's required in other seasons, your yard still needs a bit of TLC in order to remain healthy. Most of your autumn prep work should be completed by now.
Here in North Texas where the winters are fairly mild, there are still a few measures you can take to fortify your lawn.
Need some help with lawn care? Visit our lawn service page for more information.
Overseeding
Many cool-weather grasses, especially fescues, can be planted "on top of" your primary turf grass. This is a great way to keep your lawn green over the winter. There are a few things, however, that you want to consider beforehand. 
While overseeding can be applied adjacent to your final fertilizer application of the season, you want to be sure the requirements of the 2 grasses match closely enough. Some grass seed requires a moderate amount of fertilizer to provide a strong start, whereas established grasses can experience chemical burns if they're over-fertilized right as they begin to go dormant. Be sure the needs of the two grass types are similar enough that you don't risk harming one or the other. 
Additionally, you need to compare the irrigation needs of your grass seed to be sure they're compatible with your local weather forecast. If you choose a cool weather grass that requires a few waterings once planted, be sure you don't spread the seed just prior to the first winter freeze. 
Apply Herbicides
Treat your lawn with pre-emergent herbicides to manage cool season weeds like henbit, chickweed, and annual bluegrass when the soil temperature drops to 70 degrees Fahrenheit.
You may apply post-emergent herbicides for those same winter annual broadleaf weeds as needed.
Cleaning and Mowing
Most diligent lawn care advocates have already completed their fall cleaning routine by this time of year, but that doesn't mean it's a good idea to neglect debris that builds up throughout the winter. Additionally, as you prepare for your final mowing session, you want to adjust your blade height gradually rather than abruptly. 
Our temperate winters allow for occasional yard cleanup days, which are perfect for raking the yard and clearing debris from beneath your shrubs. A nice deep rake can actually help your topsoil breathe a bit better, so long as you make sure not to do so right after overseeding. Keep in mind that dry leaves can simply be mowed over for natural mulching. 
As your grass growth slows, best practice is to lower your mower blades incrementally. Dropping from 2.5 inches to only one can be harsh on the blades, so try to fit in an intermediate height if you've got a couple of mowing sessions left. And remember that too-short blades can leave your grass and topsoil vulnerable to the dropping temperatures. 
Watering
Similar to mowing, you will not need to water your lawn much through the winter season. Although, turfgrasses will need to be periodically watered if the weather conditions are warm, dry, and windy.
If you have chosen to overseed your lawn, you will need to continue to water your lawn as though it is spring or summer.
Fertilizer
Lawns will not need to be fertilized during winter unless they have been overseeded. If you have overseeded your lawn, you will need to apply a nitrogen-only fertilizer such as, 21-0-0, once in December and again in February.
Pests
You will not need to treat for pests during winter. Consider using your free time to plant some cold hardy flowers like pansies, snapdragons, or ornamental kale or cabbage.
Protect your pipes
Check your sprinkler systems and make sure you know how to turn the valves off. Put your faucet covers on to prevent your hose faucets from freezing. Turn sprinkler systems off before freezing temperatures begin.
Wrapping Up
Yes, you can relax and work less on your lawn during the winter months, but don't completely stop caring for your lawn. A healthy and robust lawn needs to be properly maintained all year long. Contact the pros at Ryno Lawn Care today and we will save you time and money.
For more helpful advice about winter lawn care, here is some advice about Winterizing Your Trees and Shrubs.