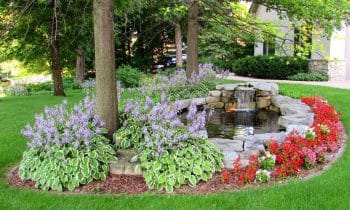 A lush green lawn with towering trees is a sight to behold, but vibrant garden plants add a dimension of lively texture to your yard. They make a great base for tree trunks, and they can add a beautiful accent to your porch and the outer perimeters of your lawn. Let's explore some important considerations when choosing the right outdoor plants.
Check For Pests and Obvious Health Issues
Whether you're shopping at a community garden or a big-box gardening store, it's important to inspect the health of a plant before bringing it home. Are there intrusive critters hiding in the leaves or soil? Best be sure you take a quick look. As for judging the appearance of leaves (and petals, if applicable), we recommend you do some quick research so you know how to recognize warning signs for unhealthy plants before you bring one home. You can also ask the gardener or store clerk how fresh the soil is, and whether the plant you want was potted on-site.
Hardy Stems and Roots
Do the plant's stems appear firm and green? Are there any dead or dying leaves or stems that may cause concern? What about the roots- how can you check without digging up the entire plant? One easy way to tell is by checking the bottom of the pot to see if roots are poking out the leak holes in the bottom of the pot. If they look dried out or rotten, that's a sign of a sick plant. However, if they simply look healthy but crowded, you may just have a healthy plant that's about to outgrow its container.
Flowering Plants
We all love a cheerful splash of color in our yards, and flowering plants add both fragrance and beauty to your landscape. However, it's important to consider the life cycle of a plant when planning for an attractive lawn. If you choose a plant that's in full bloom at the time of purchase, it's helpful to know how long the flowers last, and how frequently they bloom. It would be a shame to bring home a budding beauty that folds up just a few weeks after you've tucked into some fresh backyard soil. A quick look at seasonal blooming patterns, as well as heat and shade tolerance, will ensure you pick a plant that beautifies your yard right on schedule.
Conclusion
If you plan to fortify your foliage with a few well-picked garden plants, it is worth your time to do a bit of research about what will work best in your yard. Picking a healthy plant that fares well with your lawn's layout takes a bit of education, but it will guarantee that your greenery stays strong and and succulent throughout the year.
Be sure you check out our landscaping services to find out more about how we can help you achieve a beautiful lawn with healthy plants.
I've been a content developer for over a year, and I enjoy writing about gardening, lawn care, etc. to share what I've learned with others.