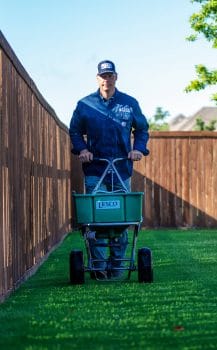 Overseeding your lawn can improve the quality and health of your grass and soil.  It's one of the most effective things you can do. Another important component is keeping up a regular fertilization schedule that works with your grass type.
Here are a few tips and tricks for keeping your lawn lush and healthy with overseeding and fertilization techniques:
Overseeding
Overseeding is a great way to compensate for thin spots in your lawn that make the terrain look visually uneven. Spreading seed over the lawn and watering is the basic process, however doing it correctly is the difficult part.
Also, take into account that not every grass type requires overseeding. The main types are fine fescue, tall fescue, perennial and annual ryegrass, and occasionally bermuda grass.
The fact that bermuda grass needs occasional overseeding is important for North Texas residents, as this is a popular turf grass. Generally, the need to overseed depends on your location's seasonal temperature trends.
You want to make sure you aerate the soil for before overseeding begins. This means the seed you spread will reach deeper parts of the grass in the ground, especially the deeper roots. This helps ensure that they will germinate properly.
Overseeding your lawn in fall is the perfect time due to the cooler weather. Younger grass will have two to three months of healthy weather to grow and become better established with its surroundings, this means deeper roots as an example.
Fall overseeding can prevent weeds that can grow in the summer heat, such as crabgrass, foxtails, and many others.
Additionally, there is more rain in the fall, giving the grass more nutrients as well as increasing the growth rate for when you overseed the lawn.
Pre-Emergent Weed & Feed
Now that the ground has been aerated, we can look at fertilization and weed control. First off, we want to start with pre-emergent product, which is used to prevent the growth of crabgrass or other harmful weeds, while fortifying your lawn.
It's critical to make sure not to apply the herbicide too early. In doing so, you risk it getting washed away due to not properly soaking into the soil.
Similarly, you also don't want to apply it too late in the season. When your yard begins going dormant, the critical enzyme that makes pre-emergents effective is drastically reduced. Thus, you don't want to waste money and products trying to kill weeds that can't absorb the chemicals anyhow.
Once you have applied the pre-emergent (read instructions on container) you need to wait 6-8 weeks for the secondary application. Adding another treatment gives your yard the boost it needs to kill off any dormant seedlings that may try to sprout next spring or summer.
Learn more about when to use Pre-Emergent or Post-Emergent Herbicides.
Post-Emergent Weed & Feed
After utilizing the pre-emergent, we can start looking at a post-emergent treatment. These are normally when the lawn is in a state of active growth. That is, somewhere between early spring and early fall.
However! You need to consult the product label to make sure you're using the product appropriately. Different pre-emergents require different application times. For instance, some are applied while the lawn is actually still dormant.
Just like pre-emergent applications, you want to apply well and make sure the ground has been aerated for best effect. This will give the grass the best chance of growing healthy and strong.
Once the turf has started to grow well, you are ready for the first mow. If you would rather leave the work up to the professionals, check out our Lawn Fertilization service page to learn how Ryno Lawn Care can help keep your yard healthy.