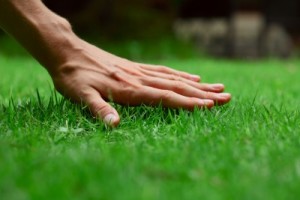 The easiest and most effective way to get your lawn ready for the next season this fall is by using the outstanding lawn service services offered by Ryno Lawn Care, LLC. We specialize in formulating a plan for your lawn, so that it will not be harmed from lingering autumn leaves and debris. By carefully maintaining your property every fall and throughout the year, we will keep your small yard issues from becoming larger ones.
Fall lawn cleanup is largely comprised of removing fallen leaves from your landscape, whether they are from your trees and bushes, or have made their way onto your property from a neighboring yard via an enthusiastic Texas winds. Our specialized fall lawn cleanup service will clear leaves away from every spot on your property, and leave nothing in your way. Additionally, we will dispose of the leaves without creating an issue for you or your neighbors.
 Ryno Lawn Care, LLC is an environmentally thoughtful company, so naturally we do not burn leaves anymore. Instead, we take them to designated areas where they can be compacted and recycled as compost and mulch. This is good for the environment and does not pose the same danger or cause the same pollution as the leaf-burning practices of yore. Of course, in Texas, we are also very cognizant of fire hazards, and that is just one more reason to take care of yard and lawn trimmings responsibly and safely.
 Another fall lawn cleanup task is clearing away plantings that are no longer useful, and will not survive through the winter. Your seasonal ground cover plantings will need to be replaced, and your Ryno Lawn Care, LLC expert will remove your old ground cover and replace it with new ground cover that is appropriate to the season. In this way, you can enjoy beautiful fall plantings during the early holiday season. When the time is right, we will add a good layer of mulch in your flowerbeds to protect and nourish your soil through the winter, and have it ready to go when spring arrives.
 Ryno Lawn Care, LLC's fall lawn cleanup strategy also includes branch control. Overgrown branches, and other items not tended to, can become problematic and even dangerous. They can fall from your trees and drift into gutters and drains, where they can potentially create bigger problems. We'll take extra care to see to it that this does not happen.
 Shrub and bush trimming will probably also be part of your fall lawn cleanup. When bushes and shrubs are not properly cut back, they are in danger of keeling over to one side, due to an uneven distribution of weight if there is an ice storm. Not only can this be dangerous for people walking on the property, but it is also unsightly. We will help you avoid this problem by keeping all greenery trimmed and tidy.
 Ryno Lawn Care, LLC will take care of all of these fall lawn cleanup chores and more When you hire us, you no longer have to worry about the cleanup of your lawn, and you are free to enjoy your property instead of staggering under the burden of the care of it. Furthermore, having lawn cleanup done in the fall just makes sense. With your yard and lawn in tip top shape, you will be ready to enjoy the holidays and greet your friends and family in style! Let us help you prepare for the holidays by taking care of your fall lawn cleanup needs today.