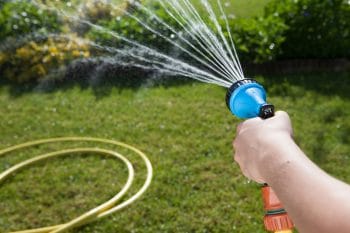 Sometimes I'm amazed at how thirsty I don't even know I am.
Have you ever gotten a hold of an ice cold glass or bottle of water, taken a chug, and had your body say, "YES! I need more?" 
There are few things more refreshing than realizing you're thirsty- and then hydrating. This is true for our lawns and gardens as well, but watering in the summer can get a bit tricky. 
Sure, you say, that's why I water my lawn all the time in the summer. But are you doing it effectively, or are you just wasting water and promoting root rot?
Let's take a look at the best irrigation practices for hot weather, to be sure you're hydrating your lawn and using resources wisely!
How Much to Water
Most North Texas grasses need 1-1.5 inches of water per week. Let me repeat that: per week. If you're driving up your monthly water bill in the summer, based on some archaic notion that you need to fully saturate your lawn several days a week, it's time to stop!
Did you know that letting the topsoil dry out for a couple of days will encourage deeper root growth? That's right- slightly thirsty roots will reach deeper into the soil for hydration. This process strengthens and fortifies your grass bed, making it even hardier in times of drought. 
Furthermore, you want to avoid waterlogged soil from too-frequent watering. Otherwise you risk an unhealthy amount of fungal growth, which can lead to root rot. 
When to Water
In the Texas heat, you want to water your yard when it's cool outside, so none of the hydration ends up evaporating. Between 4 and 8am is the perfect time.  Don't water in the evening because it promotes fungal growth.  When the grass is wet for too long it will get diseased.
In-ground sprinkler systems can be programmed on a schedule to irrigate your lawn early in the morning.  Our recommended sprinkler controller is the Rachio Controller.  It has smart features to pair with your phone and easily set schedules and check how much usage on each zone.  We love it.
Read more here for our complete lawn watering guide!
Herbicides and Fertilizers
Both fertilizers and herbicides contain heat-sensitive chemicals. Yes, this is even true for natural products, as many of these chemicals are naturally occurring. 
For this reason, you want to be careful applying these products in the scorching heat of summer, lest you risk burning your grass. Early May and mid to late September are ideal times to apply these products without harming your landscape. 
No matter when you apply a fertilizer treatment, you always want to water it in immediately afterwards.
Click for more on Lawn Fertilization.
A Brief Review
Don't water too much! Deep watering is good, but let your topsoil dry out for a day or two to promote deep root growth.
Water early morning, to avoid evaporation. Pro tip: the ground is always the hottest around 5pm!
To avoid harsh chemical burns on your grass, it's best to hire a professional fertilization company like Ryno Lawn Care.
Don't waste your water or your lawn care products! Follow these simple guidelines for a lush, verdant lawn all summer long.