Are you designing your home's landscaping or just searching for some fresh ideas for this spring season, there are numerous ways to enhance the landscape.
Landscaping your yard is an excellent way to add visual interest and make it a desirable spot for entertaining. Plus, with some know-how, this project can be relatively cost-effective as well.
How to Start Landscaping Your Yard
1. Start with a Clear Plan
Begin by determining the size and shape of your landscape area, considering both vertical and horizontal planes. Consider how big overall your yard is, and then decide where each plant or element such as a lawn or stone patio belongs.
Utilize a Plan to Construct Physical Barriers
Landscape design involves the establishment of both visible and implied boundaries that define areas within your yard, clearly delineating where they begin and end. These barriers can be constructed using low-growing plants like ground covers or trellises, or planted with trees and shrubs that block views but allow access to your garden.
2. Create a Sense of Scale
Utilizing lines to create an illusion of a larger space can make your yard appear larger and more expansive (https://www.architecturaldigest.com/gallery/front-yard-landscaping-ideas). For instance, using different heights, widths, and depths in your landscape design will help make the yard appear bigger by drawing attention away from ground level and giving you more freedom when viewing the front lawn or backyard areas.
3. Consider the Form of Your Landscape
Your yard's shape is essential when creating an integrated look, as it helps tie different elements together and balance out the space. Modern homes may benefit from rectilinear forms, while Mediterranean-style residences would benefit more from soft shapes like circles or triangles.
4. Consider Balancing Voids and Mass
Empty spaces in your yard can be utilized as voids to fill with plants or other structures like rock gardens, retaining walls, or pergolas. They serve as a backdrop for the rest of your landscape design.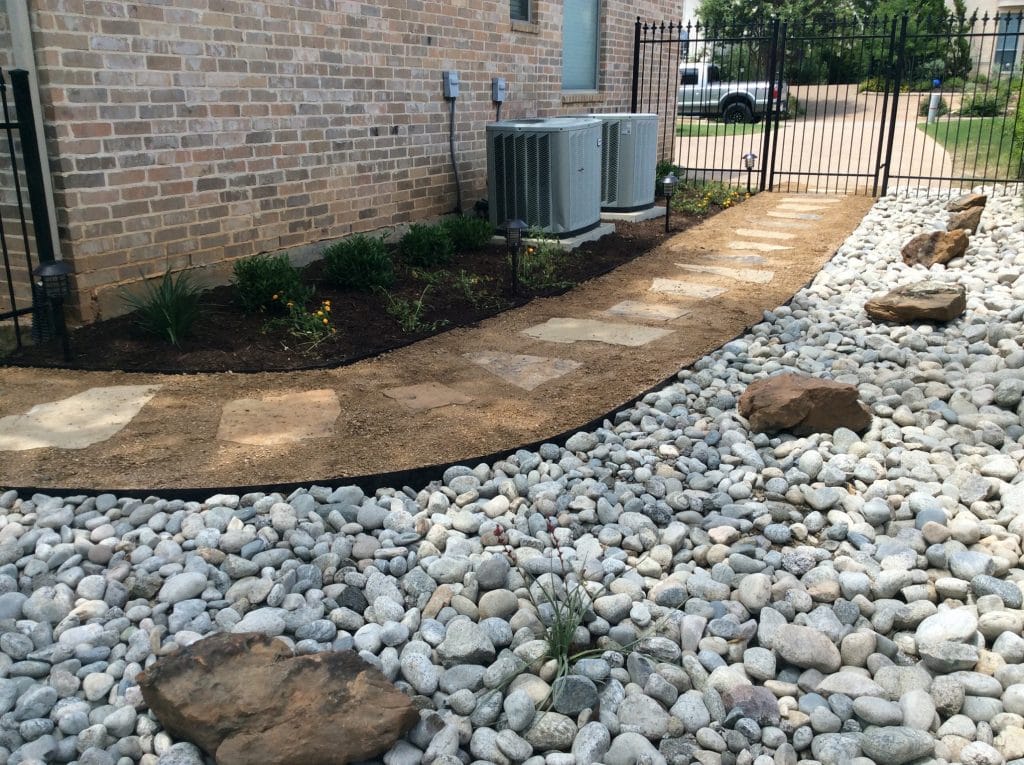 Rocks Instead of Grass
Rocks make excellent landscaping ideas because they provide a stunning aesthetic without the need for lawn care. You will not have to spend time watering or cutting them, and you can even leave them up all year round with minimal upkeep.
Rocks can also be used as landscape walls and retaining walls. There is a wide selection of landscape rocks available, so you are sure to find one that meets your needs and aesthetic preferences.
If you are searching for something more organic, Mexican river rocks are an ideal option. Crafted from various minerals, you can select from various colors and sizes to add a subtle yet stunning touch to your landscape design.
Another way to incorporate rocks in your landscaping is by creating a rock path around flowers and bushes. This low-maintenance solution will give your yard an eye-catching aesthetic and make your garden stand out.
Create a stone path using various-sized rocks or stack some large ones atop each other to form one pathway. This idea works great for both front and back yards, providing visual interest while also connecting your landscaping together.
Landscaping with rocks is an excellent solution for homes that have sandy soil or poor drainage. However, this can be a challenging job – something the professionals at Treemendous should handle. With rocks and gravel, you can transform these areas into stunning landscaping without having to worry about soil erosion or sand getting in the way of your plants.
Before selecting any type of rock for landscaping, it is important to decide on the desired look. Granite rock can provide a traditional aesthetic while basalt offers something a little different.
This type of rock is created when lava cools and solidifies above the Earth's surface. It can range in color from light green to dark green, gray, or almost black.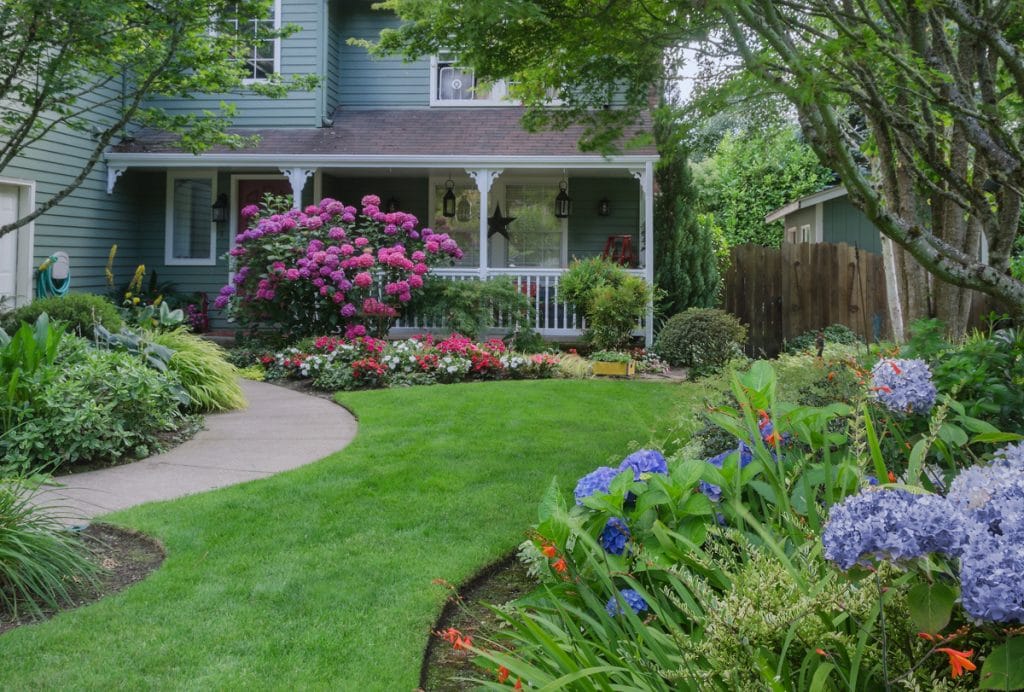 Plants Instead of Rocks
When searching for low-maintenance landscaping ideas, plants can be an excellent choice. Not only do they add visual interest and depth to a space, but they also help connect manmade landscapes to nature while providing year-round structure; moreover, plants act as natural weed suppressants which provide much-needed protection for your garden.
Rocks can be employed in many ways as part of your garden design, from edging a path to creating a water feature. They're an excellent way to add visual interest and texture to the yard; just make sure that the materials chosen fit the scale of your yard perfectly.
One popular way to use rocks in landscaping is with a rock garden. These gardens are constructed with boulders and stacked stones, creating an eye-catching backdrop for drought-tolerant plants.
Another excellent way to incorporate rocks into a garden is with a retaining wall. Retaining walls are a type of fence constructed out of large stones and can be created in several different ways.
Retaining walls can be constructed out of stone, concrete, or bricks and provide an enchanting backdrop to any area in the yard.
They're an ideal way to define areas in your yard, such as lawns and patios. Additionally, using rocks as garden edging will keep mulch and gravel in place and help your plants grow properly in their designated spots.
If you want to add some flair to your rock garden, incorporate plants that are native to mountainous regions where plant pockets emerge between harsh rocks. This will soften the edge of the garden and allow it to evolve organically over time.
Yarrow is a widely beloved plant to include in a rock garden, as it provides protection for ladybugs and pollinating wasps. It can also be paired with other drought-tolerant flowers like sedums or houseleeks.
These plants are particularly appealing to bees, making them an ideal addition to any wildlife-friendly garden. Furthermore, these hardy flowers can withstand extreme weather conditions in many parts of the United States.
Perennial Shrubs Instead of Annual Flowers
If you are looking for a change from the same garden year after year and looking for landscaping inspiration, perennial shrubs might be worth considering instead of annual flowers. Thanks to plant breeders for developing varieties with long bloom periods, vibrant foliage, and unique forms, perennial shrubs have become increasingly popular in gardens around the world.
Many of these varieties require less maintenance and pruning than their annual counterparts, as well as being cold-hardy and drought-tolerant.
Another advantage of perennials or annuals is their often lower cost, which can save you money in the long run according to this blog. Since perennials do not die during the wintertime, purchasing them only once and replanting them annually saves you money in the long run.
Some perennials require minimal care, such as deadheading faded flowers and seed heads (deadheading) or growing in a protected spot that will receive protection from harsh weather conditions. Other varieties, like flowering bushes and grasses, require more pruning to maintain their shape and size or prevent them from getting spindly during the summer.
Lily-of-the-valley is an ideal perennial shrub to add vibrant color and depth to your landscape. This low-maintenance groundcover thrives in shady spots and produces delicate spring blooms. It is ideal for shaded corners or under trees in the yard; simply plant it wherever there is sunlight!
Lily-of-the-valley can grow to heights of 4-8 feet, depending on the variety. They prefer partial sun to full sunlight and require little upkeep – making them an ideal addition to any garden.
Liatris is a perennial that produces spike-type flowers and reblooms when cut. These tubular, spiky blooms look similar to Stock or Snapdragons and come in an array of colors and forms.
Perennial shrubs add beauty and structure to your garden, providing food, shelter, and forage for wildlife while making winter months more interesting in your landscape. Plus, these blooming beauties can easily blend in with other plants like flowers and trees for a cohesive look.
Plants Next to Your Mailbox Instead of Sod
Add flowers or other plants to your mailbox for a touch of color and to enhance the landscaping around it. Not only does this give your home an inviting look, but flowers near your mailbox may also attract pollinators such as butterflies and bees to visit your yard.
When designing your flowerbed, there are plenty of types to choose from. Popular choices include native and daisy-like blooms. You may even mix and match these varieties for increased diversity in your arrangement.
Some of these flowers are easy to grow and produce an abundance of blooms – perfect for adding aesthetic value and attracting hummingbirds, bees, and other beneficial insects to your garden.
Another excellent choice for your mailbox area is the Russian sage plant. Hardy to USDA Zones 5 through 9, this perennial shrub makes a stunning backdrop and adds year-round interest with its vibrant purple flowers.
This low-maintenance landscaping idea for your mailbox offers plenty of color and vibrancy in the landscape. This low-growing, mounding plant can tolerate heat, cold, drought conditions, as well as partial shade or full sun conditions.
It is a perennial shrub that blooms from summer to fall and attracts butterflies, bees, and other birds to your garden. It can be grown in any soil condition but prefers well-draining soil. The blanket flower is an easy-to-grow and drought-tolerant plant that can serve as a border near your mailbox. It comes in various colors and will attract pollinators to your garden.