Of course, most plants need adequate water to survive. However, over watering can be detrimental. There are limitations and guidelines to follow when watering your plants.
Consider the weather, type of plant, time of the year, and type of soil. For you to prevent the plants from getting wilted, especially during summer days, supply them with plenty of water.
However, you might wonder how much water or how often they need to be watered. Here, you will learn valuable facts for watering plants in the sun.
WATER PLANTS LESS OFTEN, BUT MAKE IT THOROUGH
For effective watering, it is better to water your plants less seldom but with a lot of water, instead of watering often with small amounts of water. Flower beds should have 1 to 2 watering sessions every week to provide the plants with a sufficient amount of water.
KEEP THE LEAVES DRY
When leaves are wet, they are vulnerable to disease and mold. Keep the water application under the leaves, directly into the soil, to keep the leaves dry. Also, when leaves are left wet under the sun, they can develop burns.
DISTRIBUTE WATER IN THE TARGETED AREAS
The proper way of watering plants in the sun is by watering around them while distributing evenly in the entire area of irrigation. This way, you can prevent them from poor nutrient absorption. Avoid watering in just one root point.
MAKE SURE THAT WATER CAN REACH THE ROOTS
Always make sure that when you water your plants, the roots receive a sufficient amount of water. Too little amounts of water will only absorb into upper soil area, and the water will not be able to reach the roots.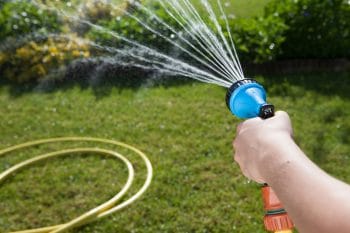 WATER DURING EARLY IN THE MORNING OR LATE IN THE EVENING
It is not a good idea to water plants when the soil is too hot. This is because the water can evaporate before absorbing into the soil. Also, this can help the plants supply themselves with sufficient water before the heat strikes the next day.
WATER PLANTS REPEATEDLY IN STEPS
It is a good rule of thumb to water in steps. Pour a good amount of water into the plant bed, but give it time to absorb before applying another dose. Too much water at once can overflow, or flow away into other areas of your lawn or plant bed. Applying the doses of water in steps will ensure absorption into the soil and avoid overflow.
AVOID WATER LOGGING
Too much water, or water logging, will drown the root cells. Just like humans, plants need oxygen to survive, so too much water can be detrimental and prevent the roots from getting the much needed oxygen.
USE ONLY CLAY-RICH SOIL
Using a clay-rich soil has the advantage of ensuring the soil can hold enough water. This is because it is rich in clay minerals necessary to receive and hold enough amount of water.
If you consider the above tips when watering plants in the sun, you'll notice the health of your plants improve. Thus, you can be sure they'll survive thru those hot summer months.