Are you still undecided between rocks and mulch for your landscaping project? Here you have the chance to learn why it's better to use rocks instead of mulch in your flower beds.
When you invest in your landscape, you are not just improving your outdoors. You're creating a beautiful view whenever you want to relieve stress. Your landscape is also perfect when you want to breathe some fresh air, the plants and trees can help you.
Although you can use either rocks or mulch in your landscaping, rocks remain to be more beneficial. Landscaping with the use of rocks creates a permanent solution, because the mulch will decay over time.
Benefits of Using Rocks Instead of Mulch
Apart from the permanent bed flower solution, rocks have more benefits to offer.
CONTROL OVER WEEDS
If you want to see your plants healthy and bloom with beautiful flowers, you need to eliminate the weeds. Remember, weeds can affect the growth of plants where they can steal the necessary nutrients. So, when you use rocks in your flower beds, you can have control over weeds.
Learn more about Ryno's flowerbed cleanup services.
DURABILITY
Durability means you can enjoy the long service life. When compared to mulch, flower beds with rocks offer a longer life. Over time, mulching will wash away, but not with rocks.
ADDED BEAUTY
Rocks come with a vast range of colours, textures, and types to create variety and uniqueness in your garden. Play with the colour scheme to produce your distinct design and look of your flower beds, and also choose whether you want to create a contemporary or historic appeal.
CONSERVES WATER
If you are concerned about the conservation of water, rocks are a better option, as they conserve water better than the mulch. Also, this means they will successfully reduce water loss necessary for the proper nutrient absorption of the plants.
COST-EFFECTIVE
If you're concerned about budget, rocks can be a more cost effective solution over the long run. Despite costing a bit more to install, rocks do not need to be replaced like mulch. With mulching, you are required to replace it as it starts to decompose which means spending extra cash. So, rocks remain to be a cost-effective solution for your flower beds.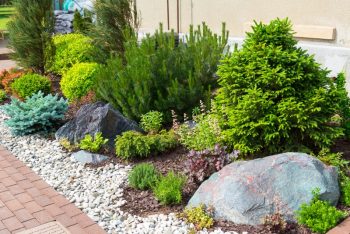 How to Install Rocks In Your Flower Beds
When using rocks for your flower beds, cover the area with fabrics and then, cut a slit so that plants have a room to grow. Make a provision for the wedge to hold the rocks in place. Next is to add your preferred rocks using the wedge. Make sure that the rocks are 4 inches deep.
There are plenty of reasons why it is better to use rocks instead of mulch for your next landscaping project, including conserving water, being cost effective, and helping plants and flowers grow.