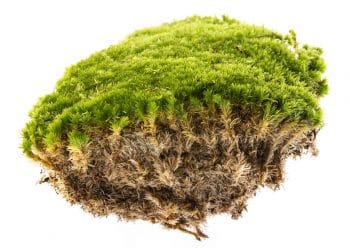 Moss can play a vital role in the overall appearance of your landscape. A patch of well-placed moss can offer a significant contribution to the aesthetic of your garden and other outdoor areas.
It can be grown ornamentally on a tree or boulder, an old stump, or even inside a pot or wheelbarrow. But it's most commonly used as a ground cover to replace grass in moist, shady spots.
Moss typically thrives in a wet and moist area with a little light, but it can also survive in a dry season. It helps provide a cool and refreshing to your place. So long as the area retains regular moisture, it can be placed and grown in nearly any part of your yard.
Some houses prefer moss as their yard's ground cover due to its fresh, cooling appearance that is pleasant to the eyes. With its vibrant green color, it can provide a lively carpet for your garden.
But how do you use a moss as a ground cover? Are there any steps or guidelines? We have the information you need to bring this garden project to life.
Place and Grow it in a Wide Space
Moss can creep and crawl its way through a wide area of land. This is a perfect plant for you to establish a broad and low-maintenance outdoor carpet. With regular moisture, it spreads more easily and independently than grass. Moss needs little to no upkeep in order to proliferate in the right environment.
Place Rocks on Top of the Moss
If you want to create an aesthetic and 'instagramable' isle of green, you can place decorative rocks and stones on top of the moss. You can assemble and organize the stones as a pathway to the entrance of your home.
This design gives your yard a unique and woodsy ambience. It's also an easy and attractive way to add rich texture, color, and dimension to an otherwise flat terrain.
Use it in a Landscaping Project
Moss can also do great in landscaping projects. Different techniques and layouts can be easily applied with moss, since it's easy to custom-cut to specific shapes to adhere to your design. This makes it an ideal ground cover for those narrow or oddly-shaped nooks and crannies in your yard.
As we mentioned earlier, you can also use moss in other places like pots, wood or metal containers, or even in ponds and aquariums. Moss can be placed anywhere, so long as it is moist, wet, and does not have direct contact with the sun.
Here's some helpful information about Ryno's landscaping services.
Final Thoughts
Moss thrives in shady areas that may be difficult to cultivate grass, and it spreads quickly.
If you're using moss as a ground cover, give it a wide space to propagate on its own, and enjoy the bright green expanse with no effort!
Due to its resilience, moss is easy to decorate with, using rocks and other yard decor.
Because it attaches easily to most surfaces, moss can be used in hard-to-groom areas of your yard, or even on trees and in various containers.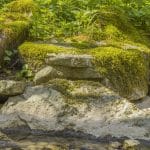 Moss may not be the first thing people think of when choosing an attractive ground cover. But the truth is, it's hardy, low-maintenance, soft, and brilliant green- making it a lovely choice for shaded areas in your yard. These qualities actually make it an easy and unique addition to your landscape.