Texas has a variety of plants that creep along the ground, creating a rich carpet of leaves and vines. Many homeowners take advantage of these foliage types when choosing an attractive ground as an alternative to grass. Let's explore some popular options that do well in our North Texas region.
Lantana Montevidensis

Trailing Juniper

Scarlet Sage

Snake Herb

Pachysandra

English Ivy

Lantana
montevidens
is
Lantana is a perennial flowering plant with robust, deep green foliage. Its small flower clusters can be found in a rainbow of colors, yet some varieties produce elegant white blossoms. Once planted, lantana will propagate quickly and easily on its own, making it an ideal choice for low-maintenance gardening.
Trailing Juniper
True to its name, a single branch of trailing juniper can grow up to 6 feet along the ground, making it an effective ground cover. As a low-lying evergreen shrub, this cold-hardy plant offers dense coverage that can reach up to 2 feet of height when left unpruned. Due to this, it should not be planted in areas of occasional foot traffic.
Scarlet Sage
This plant produces a vibrant red flower that creates an eye-catching red/green contrast in your garden. The tower of blossoms make for a dense ground cover, giving your yard colorful depth and dimension. Scarlet sage spreads easily, but bear in mind that it needs full sunlight to thrive.
Snake Herb
Snake herb is another evergreen option that you can enjoy year-round. This low-lying ground cover offers flowers that range from white to purple, with long narrow leaves. Its dense growth pattern makes for a great weed deterrent.
Pachysandra
Pachysandra is a hardy, shade-loving ground cover that thrives even in poor soil conditions. It offers bushy green foliage with fragrant white flowers. This is a fast creeper, making it a great choice for those who wish to rapidly propagate an otherwise barren patch of dirt.
English Ivy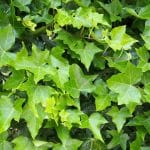 Ivy is a classic when it comes to ground covers, with its deep green leaves and creeping braids of vines. This one one of the few options that allows for occasional foot passage, as its growth pattern allows for the placement of stepping stones as long as you prune it properly. As such, you can grow it beneath window boxes containing flowers that need occasional watering.
English ivy is also a beautiful option for surrounding large trees, as it is tolerant to both sun and shade. However, it is somewhat succeptible to weeds and spider mites, so proper care must be taken to keep it healthy and free of pests.
Final Thoughts
Whether you choose a vine, flowering plant, or a low-lying shrub, ground covers like the ones we've listed are a beautiful, textured alternative to grass. These plants can enhance your yard with depth and rich colors, while requiring minimal upkeep. For more ideas on how to level up your lawn care, click here.