What variables go into selecting your ideal biltright turf lawn? Homeowners nowadays are deciding to do away with the conventional lawn in favor of a more modern approach to the garden – artificial turf. Ridding the outdoor space of natural grass in favor of a synthetic variety is growing in popularity among the masses worldwide.
The priority is to do due diligence in researching brands with the highest standards. One of these can be found at http://www.Biltrightturf.com for Bilt Right Turf, one of the standouts in the market. With the right product, you will recognize continuity in appearance, durability, and overall quality for an extensive lifespan.
While everyone wants their home to present the ideal curb appeal, looking good is not the only sign that the synthetic grass is optimum. It's vital to consider many variables, like how you use the garden when selecting the right product for your circumstances. Let us look at each factor when investing in a new lawn.
What Variables Go into Selecting Your Artificial Turf Lawn
When browsing the different types of synthetic products with Bilt Right Turf, it's essential to consider all the variables to ensure your needs are satisfied. Replacing the conventional grass with a synthetic version is a big step. That means doing due diligence researching, asking questions, and inspecting varied samples to learn what leads to the highest quality products. Some things to put much forethought into include:
How do you use the garden
People use their outdoor areas in varied ways; some incorporate the garden as an extension of their living space. In those situations, the lawn sees heavy foot traffic and frequent activity. 
These individuals will likely have pets roaming the property allowing for play and exercise zones, a kennel area, not to mention the potty. Perhaps, there are children's play equipment and adult sporting spaces. There might be a desire for a basketball or tennis court or maybe a putting green.
Some people put turf on their rooftops if there's no garden area to create a space where they can get outside to enjoy nature. Go to https://www.ahs.com/home-matters/lawn-garden/artificial-grass-right-choice-your-lawn-american-home-shield/.
How much traffic will the garden see
Again, if the outdoor space is used heavily as an extension of the living area, it will see heavy traffic. With pets and kids or even adults playing sports, the traffic will be exceptionally hard on the material by running and pounding on the surface. 
In that instance, you'll need synthetic grass that can withstand the abuse, a strong, durable material.
Consider the height of the pile
Pile height is a consideration you might only think of once you speak with a turf representative, but it is significant and requires factoring in how the space is used once again. For instance, a tennis court or putting green will need exceptionally short piles compared to an area where the pup might play.
A recommendation is that "piles 37 mm or longer will create a flat appearance rapidly with gravity." Even though you will be brushing routinely to prevent matting and encourage the piles to "stand at attention."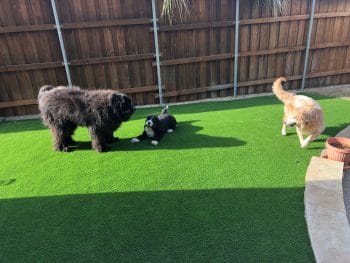 The budget should not be based on the least expensive product you can find
Following this mindset will get a product of that same quality, cheap. Investing in your household or property should always be worthwhile because you will likely get a return on the investment over the course of living in the home or when it comes time to sell. 
The more you invest in quality products, the greater you add to the value of your property, and that's true of artificial turf. You will know when you achieve good quality if the material has a sort of softness to it as opposed to an abrasiveness. Looks are also among the priorities.
Your standards should be of the highest level with the appearance of synthetic grass. The idea is to buy artificial turf that looks as natural as possible. Anything that looks plastic and fake detracts significantly from the property. 
There should be minimal yarn loss with premium denseness, thicker fibers, and construction comprising a backing of latex with adequate drawing holes and a padded underlay.
Final Thought
Nowadays, the priority for many homeowners is to have a pleasing curb appeal with minimal landscaping maintenance. 
Most also desire an area to which they can escape that serves as an extension of their living space that doesn't send them into an allergic reaction or is inundated with pests. Visit here for reasons you don't need a natural grass lawn.
Taking out the natural grass and adding a synthetic version allows these comforts, but doing so takes considerable forethought in finding a quality product and a reputed company to install.
When replacing your conventional lawn with artificial turf from a company like Bilt Right Turf, a priority is to ensure that the installation process is adequate. 
You can get the optimum quality products, but if the installation is poor, it can all be for naught when it's done and said—a lot to think about, but an investment worth considering.