This blog post is going list and describe the top evergreen shrubs for Texas best lawn and gardens. Evergreen shrubs provide lush foliage and delightful shapes, these resilient bushes can make your yard look beautiful all year.
From selection to planting, there are numerous factors that need to be taken into consideration when it comes to choosing the best option for you. To make things easier, we compiled a list of some of the best evergreen shrubs for any space within Texas!
Top Evergreen Shrubs for Texas
Yaupon Holly

Dwarf Burford Holly

Glossy Abelia

Texas Mountain Laurel

Confederate Jasmine

Japanese Boxwood

Juniper

Texas Sage

Oleander

Red Yucca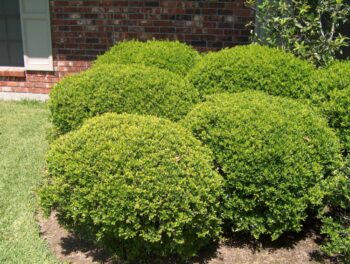 Yaupon holly
The Yaupon holly shrub is an excellent choice for the Texas climate, providing a beautiful and lush addition to any landscape. This hardy shrub can tolerate a wide range of soil types and is resistant to both drought and coastal conditions.
Not to mention, it's easy to maintain. Plus, Yaupon holly has numerous other benefits that make it even better for Texas land.
It's evergreen foliage offers year-round interest, while it can grow in areas where other plants struggle to thrive.
Dwarf Burford Holly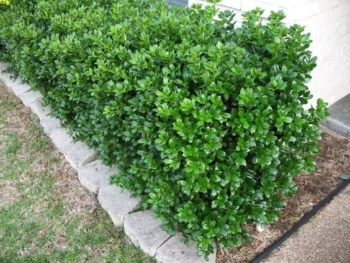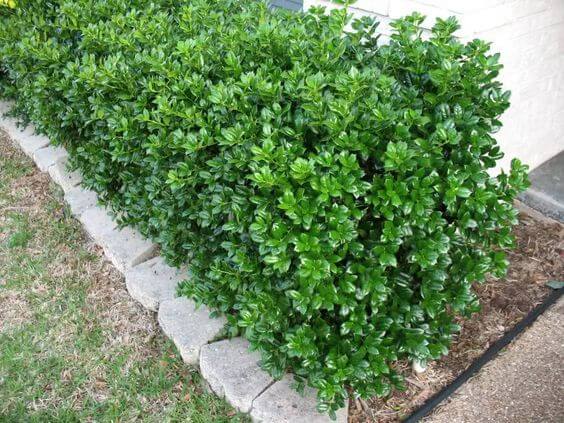 The dwarf burford holly shrub is the perfect choice for any Texas garden. This shrub is a hardy, low-maintenance plant that can survive both dry and wet conditions. It has deep green leaves and produces bright red berries, making it visually pleasing in any landscape design.
Dwarf burford holly shrub also serves an important role in helping prevent soil erosion due to its spreading, shallow root system.
Consider installing landscape lighting to illuminate your new shrubs.
Glossy Abelia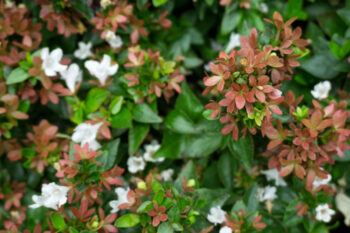 This is a great shrub to plant in Texas due to its resilience and variety of uses. Glossy abelia is drought tolerant, so it can handle extreme heat. When given moderate amounts of water, glossy abelia will reach heights of up to six feet and its beautiful blooms will last from spring through fall.
This shrub has many practical uses – it can be used as privacy fencing when planted in small groups or massed together as a living fence, it is a great choice for coastal areas due to its salt tolerance, and it provides nesting homes for wildlife.
Texas Mountain Laurel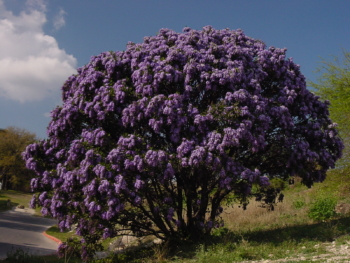 The Texas Mountain Laurel is a hardy native shrub that makes for an excellent addition for any landscapes in Texas. Not only is this shrub drought tolerant, with little water requirement once established, but it's also featured for its fragrant flowers and attractive evergreen foliage.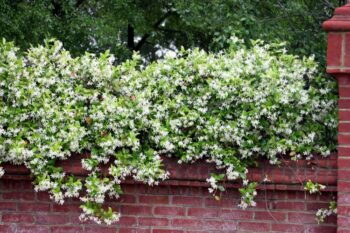 Confederate Jasmine
This type of jasmine is an evergreen that is grown both as a shrub and a vine. This shrub has glossy, dark green leaves and is deer resistant. It produces beautiful, white flowers in spring. It also works well as a ground cover. Texas A&M has a list of Outstanding Perennials that will look great alongside these evergreen shrubs.
Japanese boxwood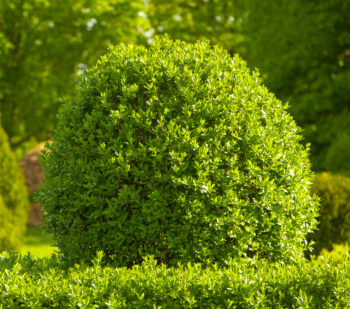 The Japanese boxwood shrub is tolerant of temperatures up to -10°F, making it a perfect fit for a wide range of climates. In addition, this species is known to be quite drought-tolerant, requiring little maintenance and moisture to maintain its vibrant green foliage.
Furthermore, due the slow growth rate, these evergreen shrubs can easily thrive in small spaces without outgrowing their designated area or intruding on other plants' root systems. With regular trimming, these versatile shrubs can produce crowns and hedges ideal for nearly any landscape.
Putting down mulch is a great way to give newly planted shrubs a little extra TLC. Check out our mulch service page for more infomation.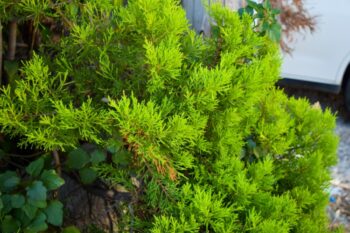 Juniper
If you're looking for a shrub to thrive in the hot Texas climate, Juniper is an excellent choice. This plant can survive harsh temperatures and is drought-tolerant, meaning it won't require much water to look its best. The Juniper shrub can also provide a great source of structure and texture to any landscape.
Native to Texas, this low-growing shrub comes in a variety of colors including yellow and green, so you can choose your favorite before planting.
 Texas Sage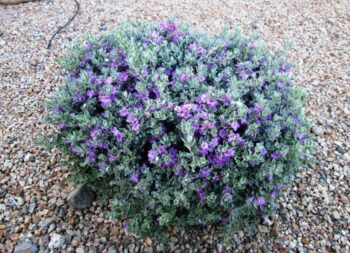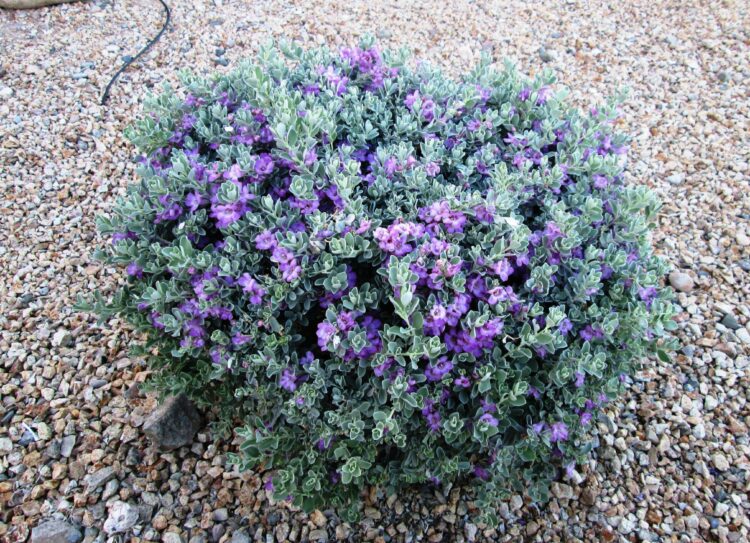 Cenzio aka Texas Sage has many qualities that make it an ideal choice for those living in Texas. Its grey-green foliage provides the land with beautiful color year round and its low-maintenance needs allow it to thrive in harsh climates.It's hardy nature and drought resistance makes it a great choice for xeriscaping (eco-friendly gardening) and is beneficial for wildlife, providing shelter, shade and a food source for small mammals and other animals.
With its heavy growth season from early May until late summer, Texas sage shrub can provide greenery over long periods of time in regions where water conservation is encouraged or necessary.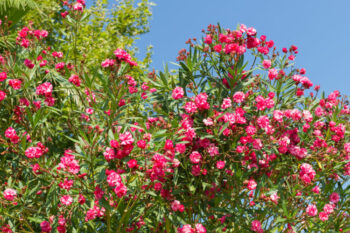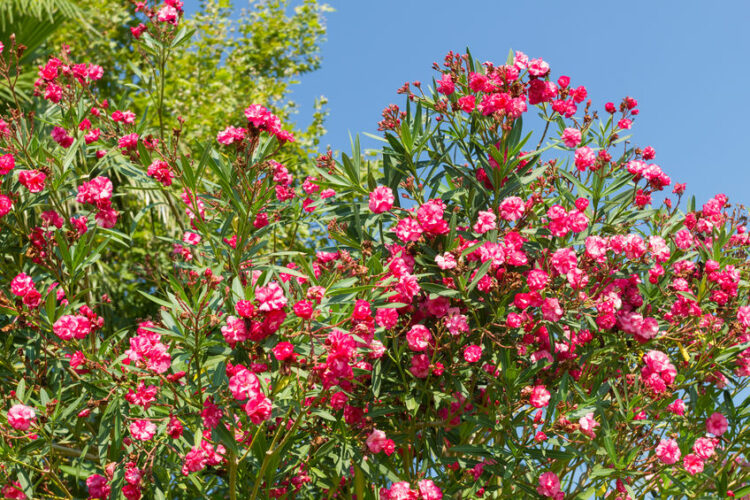 Oleander
The oleander shrub, highly appreciated for its hardy and resilient nature, is an excellent choice for landowners in Texas. Native to the region and long-lasting, it is also among the prettiest of plants, with a wide variety of colors and sizes.
One can easily find choices that fit their landscape design needs as it blooms in both winter and summer. Adaptable to most soil conditions, it requires very little care other than regular pruning and trimming.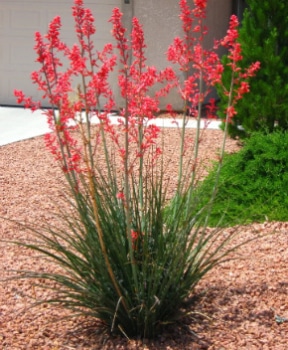 Red yucca
This is an ideal plant for landscaping in Texas. Not only does it add year-round beauty to any outdoor space, but it is also highly resilient and adaptive to a range of climates, soil types, and even neglect.
Once established, red yucca requires little attention and will tolerate short periods of drought and extreme temperatures. In fall and winter, the plants brighten up gardens with dramatic clumps of large coral-red tubular flowers that attract butterflies and hummingbirds.
Final Thoughts
Evergreen shrubs are an excellent addition to any Texas landscape as they bring year-round beauty and charm. Consider the options mentioned here to create a stunning outdoor living space that is low maintenance and highly resilient to the harsh climates Texas can often experience. With a little bit of research and planning, you can find the perfect evergreen shrub for your yard or terrace. Once you have chosen which shrubs will work best with your landscape, it will be important to properly maintain them, so that they are always looking their best.
View PDF: Best Evergreen Shrubs for Texas