IWhether you're looking to reduce your water usage, save on maintenance costs, or just want a change of scenery, there are plenty of alternatives to grass for your backyard. From gravel to artificial turf, read on to find out more about your options!
No Grass Backyard Options
synthetic turf
patio
pool
gravel
wood chips
deck
rock
wildflower yard
groundcovers
raised vegetable beds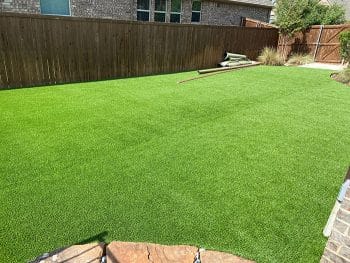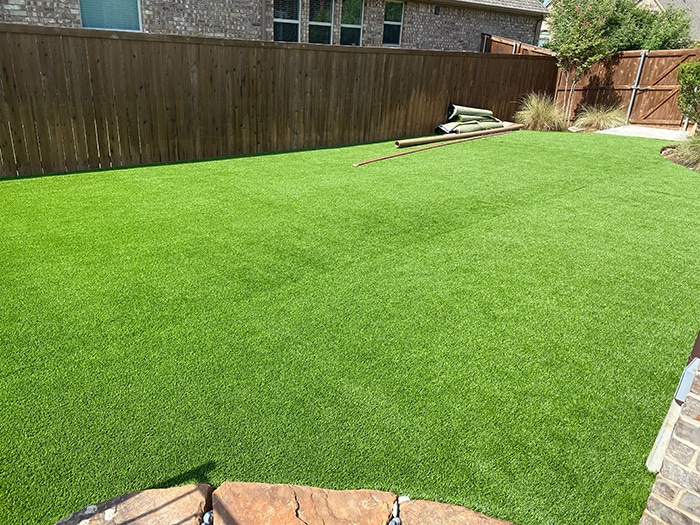 Synthetic turf
Installing synthetic turf in your backyard is an excellent way to create a beautiful and low-maintenance yard. Synthetic turf looks great for years, won't be affected by changes in weather, or require hours spent mowing, fertilizing, and weeding. Depending on the size of your backyard and the type of synthetic turf you want, it may cost more upfront than traditional grass, but it will end up saving you time and money over its lifespan.
Contact Ryno Lawn Care today to get synthetic turf pricing information for your backyard.
Patio
Adding a patio to your backyard can be a great way to have a low-maintenance landscape without sacrificing style. Secondly, whether you are looking for an easy entertaining area or simply want a space to relax away from the hustle and bustle of everyday life. Installing a patio is an ideal choice. Begin planning your project with two main considerations – material selection and design.
For materials, popular choices include naturally occurring stones such as flagstone and bluestone, clay products like bricks and pavers, or concrete options such as stamped concrete for a decorative finish.
Pool
If you're looking to give your backyard a new look, consider replacing the grass with a pool! Not only will it add value to your home and create a new space for entertaining, but it is also an enjoyable way to spend the summer months with family and friends. Start the process by considering layout options and materials available.
You'll need to choose a pool design that fits the shape of your lawn, and decide between above-ground or in-ground. Be sure you understand all local regulations related to pool installation and safety requirements.
Gravel
Installing gravel instead of traditional grass in your backyard can be a great way to improve the aesthetics of your outdoor space while reducing maintenance. Gravel is easy to care for and doesn't require frequent mowing or watering like grass does. Additionally, it can help reduce weeds, erosion, and mud problems.
When installing gravel in your backyard, it's important to choose the right type for your needs. Consider weather conditions and how much foot traffic the area will receive. You should also take into account the size of gravel and color you want to use, as well as any edging materials you may need for pathways or borders around plants.
Wood chips
If you're looking for a creative and cost-effective way to replace a grassy backyard, wood chips could be the answer. Unlike grass, wood chips require very little maintenance as they can often regenerate quickly if covered correctly. Moreover, they are also more resilient to most pests, distributing excess water away from their roots.
Deck
Have you ever thought of skipping the hassle that comes with mowing and watering grass, and getting a sleek and easy-to-maintain alternative instead? Installing a deck in your backyard may be the answer to all your lawn maintenance woes! Decking is becoming increasingly popular due to its simple installation process, affordability, and versatile designs.
Ryno Lawn Care is happy to offer wood decks as part of our landscaping services.
Depending on your budget, you can select from a variety of materials such as wood, composite or plastic composites. With the right selection of wood stains and railings, it's easy to create an outdoor space that will serve as an extension of your indoor living area all year round.
Rock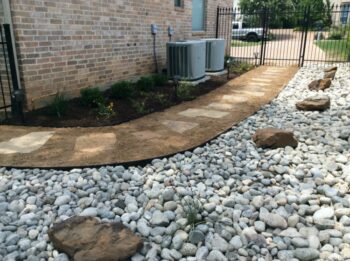 Next, on the list is putting down rock. This is a unique and beautiful alternative to grass. It's a modern way to create a stylish design. Incorporating rocks into your yard can bring contemporary beauty to any outdoor area. Not only are these visually appealing, but they are also low maintenance and eco-friendly as well!
One of our specialties is river rock landscaping.
Wildflower yard
Another option is to try out a wildflower yard instead of grass. This is a great way to bring vibrancy and color to your outdoor space. What's more, is that wildflowers attract pollinators, such as bees and butterflies. Wildflowers have the benefit of being low-maintenance, requiring only occasional watering and trimming throughout the year.
Ground covers
For those looking for an alternative to grass in their backyard, ground covers may be the perfect solution! Ground covers offer several advantages over grassy lawns and can provide your yard with a unique and beautiful look. In addition to that, ground covers reduce the need for mowing and they also require less water, fertilizer, and general maintenance than traditional grass lawns.
Furthermore, ground covers are known to be quite pest-resistant and even help prevent soil erosion – which can be especially useful if you live in an area prone to heavy rain or wind.
Raised vegetable beds
Creating raised vegetable beds in your backyard is a great way to enjoy the benefits of organic gardening without putting in as much effort. Raised beds are easy to build, maximize space efficiency, and require fewer resources like water and fertilizer. The height of the bed offers improved drainage, making it easier for plants to reach their ideal growing conditions. Starting raised garden beds can be done with simple materials like bricks, blocks, or untreated timber.
Wrapping Up
There are many alternatives to grass in a backyard. From gravel and wood chips to decks, rocks, and wildflower yards – there is no shortage of options for anyone looking to spruce up their outdoor space without having to commit to the maintenance required with traditional lawns. A combination of any of these ideas would work great as well.
View PDF: What Can I Put in My Backyard Instead Of Grass?