Potted plants and hanging baskets make a colorful addition to your porch and backyard deck. But these shady spots are only ideal for the foliage that will prosper in environments with little to no direct sunlight.
We've picked out a few brightly colored favorites, whose growth patterns and shade tolerance are ideal for containers in canopied areas.
Trailing Snapdragon

Gryphon Begonia (Pegasus)

Magilla Perilla

Lobelia

Coleus

Hippo Rose Polka Dot Plant

Velvet Elvis
Trailing Snapdragon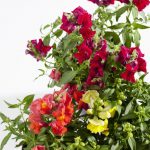 This beauty happily blooms year-round, but its famous blossoms favor the cooler air of autumn. Though they're often classed as annuals, many breeds can overwinter and rebloom a second season.
Trailing snapdragon is fantastic for hanging baskets on your porch, allowing its lengthly vines to cascade along the edges. The trumpet-shaped flowers can be found in colors of peach, purple, red, and brilliant pink.
Gryphon Begonia (pegasus)
This hardy and colorful foliage plant does well in a variety of environments. It requires minimal water, and can thrive in either full or partial shade.
Gryphon begonia occasionally produces a spray of pink flowers, but it's the leaves that make it a gardening favorite. The foliage consists of deep avocado-green leaves with lovely veins of maroon and silver.
Magilla Perilla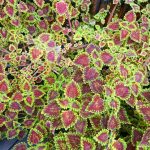 This foliage plant offers some tolerance to sun exposure, as well as extreme heat and cold. However, it does need a bit more watering during extended heat waves.
While the magilla perilla rarely produces flowers, it offers a lovely duo of color matches on its foliage. It's teardrop-shaped leaves are bright green with a golden center, while the mature leaves darken into a lovely deep plum with a fuschia center.
Lobelia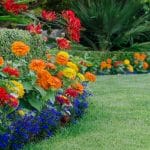 This shade lover boasts a high tolerance for both heat and drought, but will stop blooming during long stretches of hot summer nights. While it needs very little care, a bit of extra water may be necessary during extended heat spells.
Lobelia offers your porch a splash of tiny blossoms that range from violet and periwinkle, to white and light pink. Some varieties produce bi-colored flowers as well.
Coleus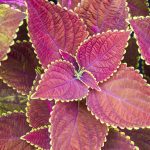 This plant comes in a wide variety of species, so you want to be sure you select one that's shade tolerant for covered porches. Though it rarely flowers, this color member of the mint family produces gorgeous foliage.
New leaves tend to be bright green with a light yellow spike down the middle. Mature leaves offer a dark contrast as they turn to a deep forest green with maroon center.
Hippo Rose Polka Dot Plant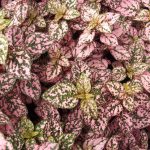 This beautiful foliage plant may not produce notable flowers, but its bouquet of vibrant leaves is brilliant. It produces large leaves of bright pink, salmon, red, purple, and lime- all with deep green veins and borders.
Polka dot plants require no pruning and do well in partial sunlight. This makes them a great addition to porch areas whose shade coverage shifts throughout the day.
Velvet Elvis (plectranthus)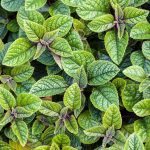 Also known as Swedish Ivy, this plant gets its name from the velvety fuzz on its deep green leaves. As an added bit of depth and color, they boast a rich violet underside.
This plant offers long spikes of tube-shaped lavender flowers that will bloom all summer long. It requires minimal sunlight and does best in fully shaded areas.
Conclusion
With all these beautiful choices, there's no reason not to enliven the shady spots in your outdoor living spaces with bouquet of fragrance and color. Each of these beautiful plants requires minimal care, and will happily thrive with no direct sunlight.
For more fantastic ideas about shade loving plants, keep reading!