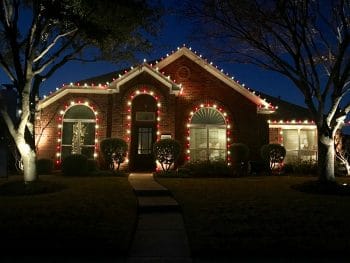 Some might say the term "magical" is a bit overused when it comes to holiday decorating. But with the warmth and color of all the lights, wreaths, and other adornments, is there really a more accurate word? Even the grinchiest among us has to admit that the sights and sounds of the holidays can stir up some warm-fuzzies and encourage a smile.   
For homeowners, the winter holidays offer an excuse to turn their yard into a veritable amusement park of joyful imagery and twinkling branches. Especially through the eyes of children, this all-American tradition brings a sense of excitement- a sort of visual escape from the mundane and familiar. 
Gone are the days of simply hanging a string of lights along the eave and posting a few wooden stand-up figures in the lawn. Consumers have an astounding array of options when it comes to holiday lawn decorations. Every sense of style, from understated to over-the-top, can be satisfied. 
If you're in the market to refresh your holiday lawn decorations, take a look at a few of our favorites:
Creative String Lighting
The classic light strands we all grew up with will likely never go out of style, no matter how much of a tangled mess they can be when it's time to unpack them and string them up. But it's time to make room for the next generation of lighting options.
Projector Lights
Maybe you don't want to deal with string lighting at all, but you still want to light up the night. Consider the ease of setting up one piece of equipment and calling it done! Projector lights offer an array of dazzling display options that work beautifully for winter decor, and can even be used to enhance the ambience of other outdoor celebrations.
Basic white lights: This setting adorns your home with a simple and elegant spray of small white lights, as though you've strung your entire house with Christmas lighting.
Snowfall: This setting turns those points of light into falling snowflakes, giving the impression that your home is surrounded by fat, fluffy sparkling flakes.
Multi-colored lights: This setting showers your home in a rainbow of flickering, rotating lights, much like the "dancing" strands you'd use on an indoor Christmas tree.
Non-Lighting Decorations
Perhaps you've already got enough lights to keep the whole neighborhood up all night, but you're looking for something fresh to spruce up the porch. Or maybe you're on the conservative side when it comes to decorating, and you want something simple to add a tasteful accent of holiday joy to your home's facade.
Giant Wreaths come in all shapes and sizes these days, and they aren't necessarily made from the classic green hoop of faux foliage. If you want your front door to burst with joy, there are plenty of large yet uncomplicated designs you can pick from.
Holiday Banners may be the easiest- yet one of the loudest- holiday decorations you can go for. Maybe you don't want the task of setting up multiple decorations in your yard, and would rather not light up your entire home. But if you still want to "shout it out" that you love the holidays- and your neighbors- this one is for you.
Giant Candy Canes are a simple way to make a big statement in your front yard. Stake them up along your walkway or front porch- and call it done! Even if this is the only decoration you use, your yard is instantly more festive, and both the setup and cleanup will be easy as pumpkin pie.
Wrapping it Up
If decorating for the holidays truly warms your heart and excites you, then it is a labor of love to create and show off a bright and cheerful yard. But if you feel like what you've got is just a bit too "last year," then have some fun and level-up your lawn decor with creative ideas like these.
Would you rather we do it all for you while you enjoy some meaningful family time this season? Ryno Lawn Care proudly offers Christmas lighting installation services that include both setup and removal.