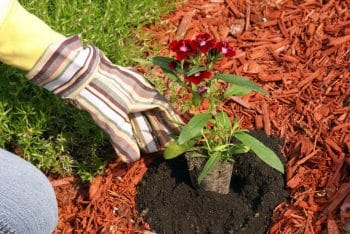 With spring around the corner, it's time to consider what your yard and garden will need to get off to a good start once the weather warms up. 
We recently discussed some great Winter Lawn Care Tips, so let's explore what you should do in preparation for the coming season. 
Clean-Up
If you stayed on top of winter yard duties, there shouldn't be much to clean up in preparation for spring. But if the cold weather and dark evenings have kept you away, then it's time to break out the cleaning tools.
Take a look through your garden and shrub areas to clean out any buildup of debris on the ground. Smaller debris that's dry can be mulched with your lawn mower, but anything wet needs to be thrown out to avoid mold and algae. 
Now is a good time to take a look at your gutters and other small areas where additional debris could be tucked away and not immediately visible. Again, the idea is to avoid rot as well as yard pests that use those areas as a breeding ground. 
You may also want to take a look at your gardening tools to see how they held up over the winter. Check openings for rust and debris, check electrical cords for tears, and make sure gas-powered equipment has sufficient fuel. 
Gardening Prep
For those who enjoy growing from seeds, late winter is a great time to get organized and start planning your garden. If you're new to gardening, it is well advised to do some research before you start digging, so you know the requirements. 
Additionally, if you're starting fresh, now is the time to apply a pre-emergent herbicide. There needs to be at least 6 weeks between application time and the planting of new seeds. 
Not sure when to use Pre-Emergent or Post-Emergent Herbicides? Click the link to read more.
Vegetables
Some vegetables need more space than you might expect, while others will be more tolerant of various shade conditions. There are actually some plants that do really well as "soil neighbors" due to the mineral exchanges that occur in their root systems. 
Figure out how much garden space you have to work with, and how you should arrange everything. Many veggies can start out inside and then be transplanted once they've sprouted, so late winter may be a good time to get a head start on a few of them. 
Flowers
For flower beds, you will want to go ahead and remove any dead plants in addition to cleaning out debris. Anything you plan on replacing can be dug up and mulched. 
Learn more about our garden landscaping services!
If you need to enrich your soil for fresh spring flowers, now is the time to do so. Again, late winter is prep time, so take a look at the ideal soil conditions for the flowers you want to plant.
A soil pH test may come in handy for knowing which products to choose. If you choose to add a fertilizer or some compost, be sure to mix it into the existing topsoil to about 2 inches deep. This can easily be done with a basic metal rake.
Final Thoughts
Take advantage of the slowly warming weather and give your garden some TLC in preparation for the coming season. Need some help? Click here for a free service quote!