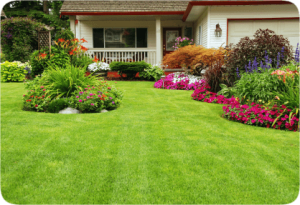 If you are interested in improving the appearance of your home for your own enjoyment or resale value, carefully selecting your lawn care services is extremely important. Many families in the Lewisville area have made this decision, and there is a reason why a great number of them have turned to Ryno Lawn Care LLC in Lewisville, TX.
At Ryno Lawn Care LLC, we are committed to maintaining satisfied customers. In addition to offering services that improve the appearance of your lawn, we will listen to your needs and work hard to meet them.
If your goal is to create and maintain a beautiful yard, our weekly lawn services can help you to achieve that task. These services will not only keep your yard looking beautiful, but they will also improve your yard's health. Why go it alone, spending hours and money trying to get it right, when our trained professionals can do the job for you quickly, easily and professionally?
Just give us a call at 214-728-8894 or submit a convenient Online Service Request Form. We'll be in touch right away to schedule an in-home consultation to discuss your specific needs. No two homes are alike, and no two jobs are alike, so we want to take the time to understand your needs and form a plan that will meet them to your satisfaction. During our initial meeting with your family, Ryno Lawn Care in Lewisville, TX will listen to your goals, establish a plan for caring for your yard, and make it work within your budget constraints. Once that meeting is complete, you can leave the rest up to us. Simply unlock your gate once a week, and watch your yard turn into a beautiful masterpiece!
Some customers ask about how their yards will remain cared for when the weather is bad. With our lawn services, you need not worry about this. If the weather is not conducive to yard work, one of our friendly customer service representatives will contact you. We will reschedule on a day that is convenient for you, and make sure the work is done to keep your yard looking great.
In addition to weekly lawn care services, many clients use our company for other tasks. Ryno Lawn Care LLC can help you to fertilize on a seasonal basis, weed flower beds, properly irrigate your green space, add mulch to your garden, clean up debris from trees and leaves, and much more! If you have a job to complete in your yard, call us first. We will gladly meet your needs for a price that cannot be beat.
If you are looking to sell your home, enhancing your home's first impression potential needs to be your top priority. Great curb appeal attracts a higher number of buyers, gives a terrific first impression, and can definitely raise the value of your home. Do not take time out of your busy packing and moving schedule to manage this task alone. Give us a call and we will take care of your lawn care needs for you.
Ryno Lawn Care LLC has a strong reputation for quality lawn services in Lewisville. The reason for this is our quality workmanship and dedication to customer satisfaction. We are glad to welcome your family into our long list of customers, and we look forward to servicing your lawn care needs for many years to come! Give us a call today to learn more about how we will make your lawn care needs easier and more affordable.