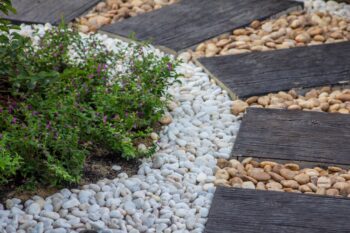 Why not add some beauty to your lawn by incorporating top landscape edging stone ideas? This sort of individual touch makes your yard unique, and nothing lasts longer or looks more beautiful than stone.
Create A Beautiful Yard With Stone Border Landscaping
For a truly unique and authentic look, collect stones in your local area or even in your own yard. Use these alone or mix them with stones purchased at your local landscaping materials dealer, garden center or home improvement store.
An artful mix will add texture, color and visual interest to your outdoor environment. Consider establishing a base of uniform or similar purchased stone and then enhance it with unique local finds for a truly one-of-a-kind appearance.
If your area is rocky and you enjoy rock hunting, find the stones you need. If not, another alternative is to purchase stones from a landscaping professional.  For a uniform appearance, purchase natural flagstone or river rock or manufactured stone. Be sure to ask about home delivery to save time, effort and wear and tear on your truck or car.
When it comes to installing landscape edging, the little details make a significant impact on the overall look and feel of your outdoor space.
What better way to achieve a timeless and elegant edging than with landscape edging stones? In this blog post, we will explore different landscape edging stone ideas that will add a touch of sophistication and beauty to your outdoor oasis.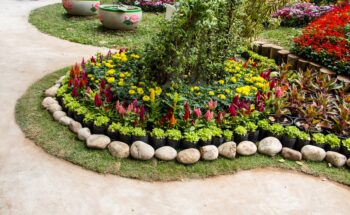 Natural Stone Edging
Natural stone is a classic choice for landscape edging, exuding a sense of elegance and permanence.
Whether you opt for flagstone, limestone, or granite, stone edging adds a rustic charm that works well with various landscape styles.
The irregular shapes and textures of the stones create a visually interesting border, defining your garden beds, pathways, or flower borders with a touch of natural beauty. Check out our stone border landscaping page for details.
Cobblestone Edging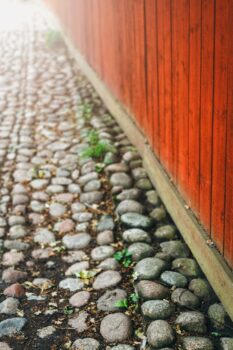 If you're longing for a quaint and charming garden, cobblestone edging is an excellent choice. With their rounded shapes and smooth surfaces, these small stones provide a softer, more whimsical look.
Cobblestones bring a sense of history and nostalgia to your landscape, as they have been used for centuries to create beautiful borders and walkways.
Their versatility allows them to blend seamlessly into both formal and informal garden designs.
Call us for help with mulch installation services for your flowers and shrubs.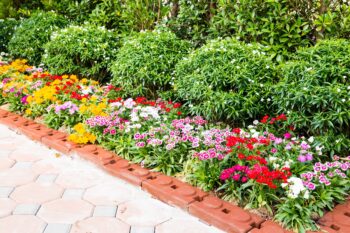 Brick Edging
For a classic and refined appearance, brick edging is a surefire winner.
The distinct red tones of bricks can add warmth and character to your landscape.
Whether you choose to lay them horizontally or vertically, brick edging provides clean lines and a timeless appeal. The uniformity of bricks creates a cohesive look that pairs well with traditional, colonial, or rustic themes.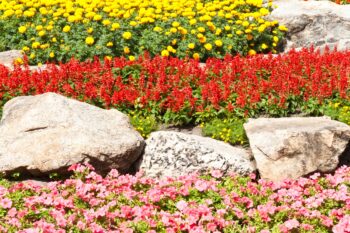 Boulders as Edging
For a bold and dramatic edging statement, consider using boulders.
Large and imposing, boulders can serve as eye-catching accent pieces that define your landscape's boundaries and add visual interest.
Whether you use them individually as focal points or as a continuous edging line, boulders create a striking contrast to your plants and greenery, instantly elevating the overall aesthetic of your outdoor space.
Install landscape lighting to enhance your outdoor space at night.
Should You Hire A Pro Or Do It Yourself?
When it comes to landscape edging stone ideas, the possibilities are truly endless. Whether you prefer a traditional, rustic, or contemporary style, incorporating the right edging stone can add that finishing touch that brings your outdoor space to life.
At Ryno Lawn Care, our expert landscapers are experienced in working with landscape edging stones. We can help you choose the perfect stone, design a custom edging plan, and professionally install it to create the landscape you've always envisioned.
Contact us today to explore the myriad of landscape edging stone options and embark on a journey towards a beautifully defined and polished outdoor space.