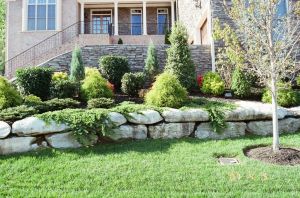 Why not add some beauty to your lawn with stone borders, pathways, stepping stones and retaining walls? This sort of individual touch makes your yard unique, and nothing lasts longer or looks more beautiful than stone.
Create A Beautiful Yard With Stone Border Landscaping
For a truly unique and authentic look, you can collect stones in your local area or even in your own yard. Use these alone or mix them with stones purchased at your local landscaping materials dealer, garden center or home improvement store. An artful mix will add texture, color and visual interest to your outdoor environment. You could establish a base of uniform or similar purchased stone and then enhance it with unique local finds for a truly one-of-a-kind appearance.
If your area is rocky and you enjoy rock hunting, you may be able to find the stones you need. If not, another alternative is to purchase stones from a local home improvement or garden center or a landscaping professional.  For a uniform appearance, you can purchase natural flagstone or river rock or manufactured stone. Be sure to ask about home delivery to save time, effort and wear and tear on your truck or car.
You can tell us the look you desire and we can find the stones for you.
Should You Hire A Pro Or Do It Yourself?
When it comes to very hard labor such as laying rock, you may find that hiring a professional landscaper is far more efficient than doing it yourself. Ryno Lawn Care has good resources for landscape stone already established. We have the trucks, equipment and experience needed to make quick work of the job. DIY stone laying can be backbreaking and time consuming.
We've been working with stone landscaping for 10+ years in the DFW area.   Contact us today for a free consultation and estimate.